Covid impact on small businesses – 6 Caci clinic owners share their story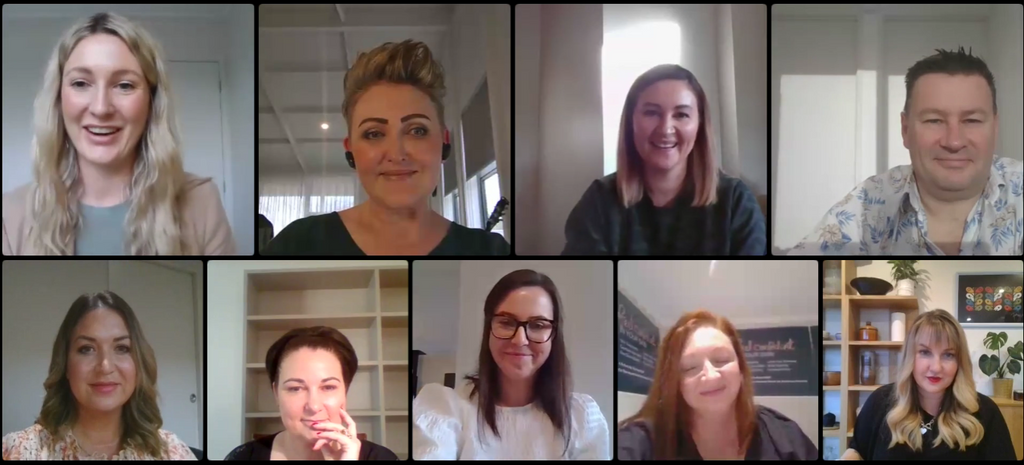 Covid and lockdowns impact everyone differently, it is complex and challenging, but there are commonalities that many businesses face - the people and the team, the customers, and the business itself.
Recently, Chelsea Cresswell our Communications Manager had the opportunity to speak with 6 Caci Business Partners, to share experiences, learnings and advice on how Covid 19 and lockdowns have impacted their business. Our guests include Krista, owner of Caci Blenheim, Kym, owner of Caci Matamata and Cambridge, Ross, owner of Caci Hamilton, Karen, owner of Caci Pukekohe, Zoe, owner of Caci Tauranga West and Rototuna, and Hannah, owner of Caci Kumeu. Along with Penny, General Manager of Caci Franchise and Operations and Sarah, Learning and Development Manager.
With a network of over 500 team members, there's going to be some challenges managing the transition from being hands-on with customers, to working from home. One of our values at Caci is 'Relentless Pursuit of Improvement' and lockdown hasn't stopped our thirst for knowledge.
"Registered Nurses are learning more about skin, and Skin Therapists learning about injectables and sharing those learnings with each other – it's really demonstrating how passionate they are in their roles, and it makes me really proud" says Krista, owner of Caci Blenheim.
You might think that recruitment would be one part of the business you'd push pause on and that may be the case with some owners, but it was incredible to hear that so many of our Caci clinic owners are still hiring.
"If you've got the opportunity to take on a great employee, grab them if you can. This lockdown isn't going to last forever" explains Karen, owner of Caci Pukekohe. The only problem seen was that the process might be slower and getting a real gauge for the right person is tough over a screen, but as Ross, owner of Caci Hamilton put it, "It can be done. We have jobs listed now and there's plenty of interest".
Covid has changed many industries, but the human connection you get at Caci is something so many value – and miss so much when we're closed! Fortunately, we've been through lockdown and reopening before, so many of our owners and team know just what to do – preparing for the initial rush is always a busy time! "We don't 'live to work' normally, but for the busy 2-week period when we reopen, I ask our team what they can do to support the customers who have supported us during this time, so we can catch up and get back to normal. The sooner we get up off the mat, the better it is for everyone" - Karen, owner of Caci Pukekohe adding that it's important to start having these conversations very early on, so the team have time to discuss and plan with their families or partners, "we all need to have a plan in place when it's time to reopen."
One of our newest clinics, Caci Kumeu was open for 3 weeks before going into lockdown, so not only was this new for Clinic owner and Registered Nurse Hannah and her team, but it was also all new for her customers. "I'm very lucky that I have a team that is as passionate about Caci as I am, I didn't even need to ask – they are all prepared to work extra hours to support our customers when we reopen". As a Registered Nurse, Hannah knows all too well that Covid isn't going anywhere, and in fact first started looking into buying a Caci franchise in lockdown last year – not even Covid could prevent her from following that dream.
Over the past 18-months New Zealand has experienced a number of Alert levels, and lockdowns but this hasn't stopped two of our owners from opening another Caci clinic and becoming a multi clinic owner. Zoe, owner of Caci Tauranga West and her new clinic in Rototuna, "we opened our second clinic after the last lockdown, and my husband has asked me, are you still happy with your decision? And I always go back to the reasons why I chose Caci in the first place – it's the brand, the position in the market and the future of the brand. I believe that even though we're in interesting times, it won't go on forever. I would do it all again".
Kym, owner of the new Caci Matamata clinic and established Cambridge clinic said "I opened my second clinic just prior to lockdown, and I don't have any regrets whatsoever! We have been welcomed into the Matamata community and being a small community, people have a real sense of loyalty to local businesses. In a world, that is increasingly digital, with people working remotely and less physical contact with other people, to be able to come into Caci and have that touch and personalisation is so craved. Covid has changed our industry, but I think it's for the better."
When asked about the benefits of being part of the Caci franchise during a crisis, it was clear that there was one consistent theme throughout, and that was the underlying sense of unity found at Caci.
The message was clear - we are all in this together. "I feel like I could fall backwards and know that I was going to be caught" says Krista. "It's not only the support I get as the owner, but also the support given to my team too. A sole trader may not have that support. Its times like these that you really see the benefit of being part of the Caci network" explains Zoe.
Lockdowns can be quite isolating for many, but as Karen explains, it's something we don't realise as we're part of such a strong franchise network. "I always think, I've got a team of 50 people at Support Office, who are passionate and committed to my business too. And I've got 60 or so other franchisees in the trenches with me, and that's huge for me. We're all learning from each other and supporting each other."
There's no doubt that Covid will continue to impact us all in different ways over the coming months, or years. But we should all take a moment to reflect on how far we've progressed from last year.
For many businesses, we have all been forced to grow in so many ways that only a crisis can do.
---