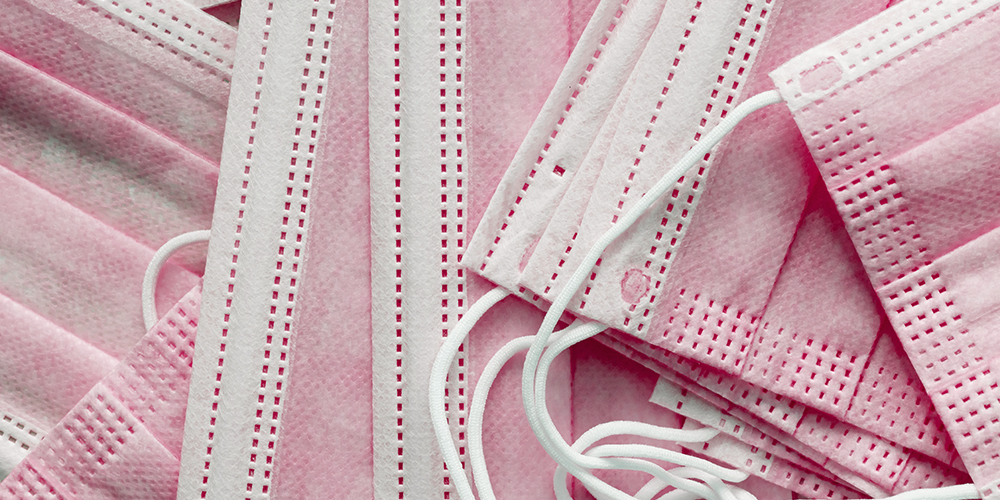 The global pandemic has changed everything, from how we make sweatpants fashionable and functional to how we work and shop. It's also changed our skin: As we do our part to slow the spread by wearing a face mask, our skin is literally breaking out as a result: pimples, redness, and irritation now plague our faces, whether we've experienced acne before or not. The condition is so common, that it's now known as "maskne". 
So, what is maskne? And, is there anything you can do about it? Dr. Howard Murad, dermatologist, pharmacist, and founder of Murad Skincare says yes: "There are simple skincare and lifestyle steps we can take every day to prevent maskne and help keep skin clear." Read on for his tips on how to prevent mask acne (maskne).
What is maskne?
Maskne is a side effect of wearing face masks and face coverings, in which your skin breaks out or becomes irritated. Wearing a mask tightly over your face means there's a lack of airflow. What's created is a warm and moist environment - the perfect place for bacteria to flourish. 
What's not commonly understood is that maskne comes in two forms. Maskne can be an effect of friction, heat, moisture, and trapped oils and bacteria that cause breakouts on skin types that don't normally have acne issues. For others, maskne aggravates already existing breakouts and acne. Why identify the type of maskne you have? "Because it influences which products you should use to treat it," says Dr. Murad. Minimising maskne is about taking a two-pronged approach; prevention and treatment. 
How to prevent maskne
Getting into a good routine can help you avoid maskne. Check out our tips below on how to prevent and treat maskne. We also asked our experts at Caci what their secret tips are for combating maskne. 
Tip 1: Cleanse before and after wearing a mask
If your breakouts are mask-induced, select a gentle cleanser—not necessarily a cleanser specific for treating acne. Why? Because using an acne cleanser could dry out your skin and make your breakouts and irritation worse. Hannah, Clinic Owner & Registered Nurse at Caci Kumeu highly recommends the Murad Prebiotic 4-in-1 MultiCleanser. This cleanser will effectively sweep away built up oils and bacteria while hydrating and balancing skin.
If maskne is exacerbating your breakouts, it's more important than ever to stick to a consistent routine that begins with a salicylic acid cleanser like Murad's Clarifying Cleanser. This foaming gel cleanser treats and prevents blemishes for up to 8 hours after rinse-off. And, green tea extract helps soothe.
After cleansing Queza, a Registered Nurse at Caci Thorndon swears by the Skinsmiths Resurfacing AHA/BHA Peel twice a week with the Skinsmiths reusable cotton pads. The cotton pads are gentle on the skin and the environment and the fabric texture grips the dirt and impurities. Perfect for tackling maskne!  
Tip 2: Don't skip the moisturiser, do go oil-free 
Dr. Murad says, "Don't skip moisturiser altogether, even if it seems counter-intuitive to moisturise already oily skin." Why? Moisturisers help keep a healthy skin barrier, regardless of your skin type. And, a healthy skin barrier has a better chance of keeping breakouts and irritation at bay. Look for moisturisers labelled 'oil-free' or 'non-comedogenic' to help minimise pore-clogging that can lead to breakouts.
We recommend Murad's Clarifying Water Gel, our water-light, non-greasy moisturiser that wears comfortably under your mask. Hyaluronic acid deeply hydrates while salicylic acid exfoliates and refines for a balanced, non-greasy finish. And, Korean red pine extract helps stop quorum sensing—a process known to cause microbiome imbalance and irritation. 
To tackle maskne, Queza, a Registered Nurse at Caci Thorndon swears by the Skinsmiths Resurfacing AHA/BHA Peel twice a week and is Queza's hero against maskne! That and Skinsmiths Re-balancing Moisturiser during the day and Murad's Vita-C Glycolic Serum and Retinol Youth Renewal Night Cream in the evenings.
Tip 3: Take a break from makeup
If you know you'll be wearing a mask for a while eg. on flights, or long shifts where you need to wear a mask, you may want to take a break from make-up. 
Try to avoid products that clog your pores, like foundation, concealer and powders or oil-based cosmetic products. 
Tip 4: Wash masks after every use
There's a lot you can do beyond protecting your skin from maskne, and it starts with your mask. Never re-wear a mask without washing it first. Always select breathable fabrics, like cotton, and steer clear of polyester & rayon that can cause irritation. If the skin is irritated, opt for hypoallergenic, unscented laundry detergent and ensure masks are completely dry before re-wearing. 
You can wash both cloth masks and some disposable masks. Health Navigator New Zealand advises that "disposable masks can be washed up to 10 times and still be effective at protecting you against COVID-19. When washing disposable masks, it's best to soak them in warm, hot or boiling water. This is better than washing them in a machine or with soap or detergent which makes them break down and become less effective more quickly. 
If wearing P2/KN95 masks, these cannot be washed and you should dispose of them responsibly after use. 
Tip 5: Remove your mask when it's safe to do so
If wearing masks for long shifts, try to take breaks and remove your mask for about 15 minutes, when it's safe to do so to let your skin breathe. If possible, it may be beneficial to wash your face, lightly moisturise and put on a clean mask. 
How to treat Maskne
Beyond preventing maskne, there are a few things you can do to help treat and heal acne and irritation caused by wearing a face mask. 
Try spot treatments
Don't be afraid to apply spot treatments and leave them on during the day under your mask, or apply before you head to bed and let them work overnight. Hannah, Clinic Owner & Registered Nurse at Caci Kumeu's go-to spot treatment is Murad's Outsmart Clarifying Treatment for any breakouts. Gretchen, Caci Wynyard Quarters' Treatment Advisor uses the Murad Clarifying Mask to treat spots every few days after the evening routine. Simply apply where necessary. "It is definitely a game changer!"
Gently exfoliate regularly
If you have maskne, regularly exfoliating after cleansing can help clean and purify clogged pores by dead skin cells built up that can mix up with oils and bacteria, causing your skin to break out. By exfoliating, this can help to dissolve and clear your pores of dead skin build-up. To tackle maskne, Queza, a Registered Nurse at Caci Thorndon swears by the Skinsmiths Resurfacing AHA/BHA Peel twice a week in the evening is Queza's hero against maskne! Linda's (Skincare Trainer) go-to is the Murad Replenishing Multi-Acid Peel. "This dissolves the oil surface in pores and by keeping high hydration levels, it will prevent overactive sebaceous glands from accelerating breakouts"
Try Blemish Bootcamp for treating Maskne
Beyond skincare, there are a number of advanced treatments on offer that can help you banish those pesky breakouts. 
Does your skin crave more? Do you want to make the most out of your products and target those stubborn blemishes at breakouts? Here at Caci, we know how important skin confidence is to you and that good skin takes time. That's why Caci's clinical experts have developed the 8-week Blemish Bootcamp! 
This eight-week treatment plan addresses blemishes internally and externally. A combination of skin-correcting treatments, skincare and supplements work to reduce blemish-causing bacteria and improve your skin health. Kickstart your journey with the bootcamp and then continue working on and maintaining your results with Reformaskin: Your Skin Health Membership. 
So how does the 8-week Blemish Bootcamp work?
The treatments and products in your bootcamp are specifically designed to address the different factors that can cause blemishes (particularly from the dreaded maskne!) 
LED Light Treatments
Blue Light Therapy: Targets acne-causing bacteria while also stimulating cells in the body that help with the healing process. The treatment is delivered using a high-intensity light source in a specific blue wavelength range. 
Red Light Therapy: Stimulates the skin's natural defence mechanisms, which can help to reverse some of the signs of ageing such as uneven skin tone and decreased collagen and elastin. 
You'll feel great straight afterwards! We recommend a course of regular light therapy to really help reduce inflammation and blemishes - which is exactly what you get with Blemish Bootcamp!
Blemish Control Facials
The Murad Blemish Control Facial uses a clarifying enzyme treatment to target bacteria, draw out congestion and relieve the skin from any aggravation. Inflammation is calmed leaving the skin more even and vibrant. You will notice your skin feels refreshed and soothed immediately after each treatment. At Caci we recommend ongoing Skin Conditioning treatments to keep your skin looking and feeling its best.
Hydradermabrasion
Deeply cleanses, exfoliates and hydrates the skin. This treatment uses our Skinsmiths Detox Serum, infused with green tea extract, aloe, chamomile and hyaluronic acid. You will notice that your skin feels clean, glowing and hydrated immediately after each treatment!
Skincare and Supplements
You'll receive a great skincare pack when you sign up to a Blemish Bootcamp membership - it's all about ensuring you make the most of your treatments and get the best results for your skin. You'll receive:
Talk to us at Caci
Now that you can answer the question, "What is maskne?'' It's time to shop for solutions that can help keep skin free and clear of its impact.
For more information on our advanced treatments or our skin health memberships, book a free consultation at your nearest Caci clinic. We're here to empower you with the best advice, skincare and treatments, so you can feel confident in your skin. We're for you.
Book a free consultation today
.
---