Long term mask use and how this impacts our confidence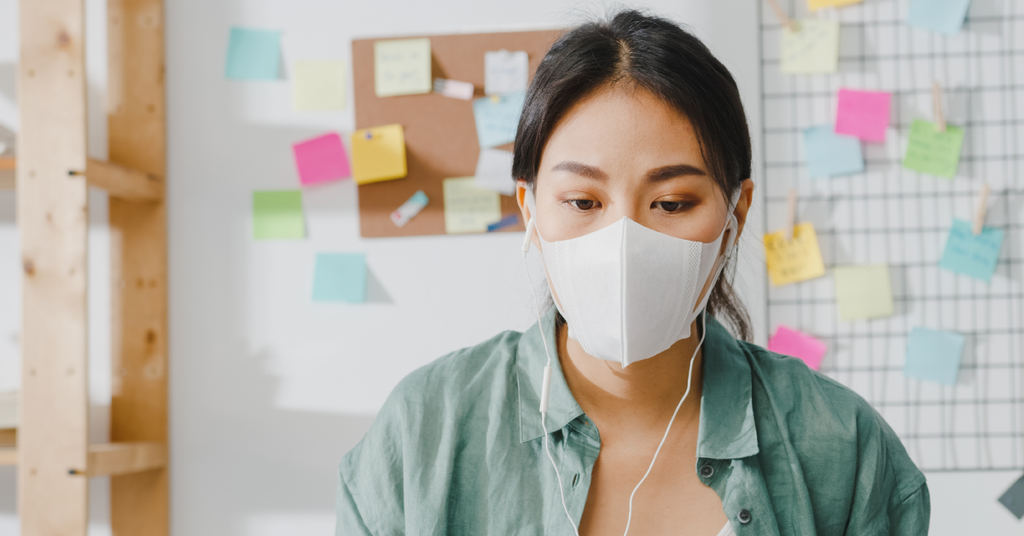 There have been a number of stories in the news about 'maskne' but covering up under a mask all day not only has an effect on your physical skin condition it can also take a toll on inner skin confidence.
It's something we're taking seriously, and it's not just superficial – some people have said it's taken away their pathway to connecting with others. The smile, the confidence, and the personality that's now hidden away under a mask. Our faces are the visual representations of who we are and provide us with essential non-verbal connection with others. Our skin, mouth, eyes and facial features are focal points for human interaction – and masks are limiting that.
Masks are here to stay and for good reason, but this new normal can be tough for many, so we spoke with a few experts on the impact and connection between mask use and confidence. We are joined by Sara Chatwin, Registered Psychologist, Brandy Wehinger, Caci Clinical Director and Katherine Williams, Caci Regional Trainer.
There is a lot of research internationally on the relationship between dermatology and psychology, as our skin is a primary indicator for our internal health and wellbeing. You only need to think of a time when you've been embarrassed, and your cheeks go red…

Sara Chatwin
The ongoing pandemic and lockdowns have "exacerbated anxiety and worry", explains Sara Chatwin, adding "some people feel 'invisible' and feel like they have lost a sense of self with long-term mask use". The increased levels of anxiety go hand in hand with skin issues such as eczema, psoriasis and acne. Sara has observed this first-hand, "I have clients struggling with these issues too – we may continue to see self-esteem and confidence decrease as a function of Covid and mask wearing".
For people that have lived with existing skin concerns or have been committing time (and money) to improve their concerns, there can be a real sense of anxiety that masks will slow down their progress, or worse, set them back. Katherine Williams, Caci Regional Trainer, speaks from personal experience, "that surge of panic you feel when those little red bumps pop up – it's real! People who suffer or have suffered from acne can have a form of PTSD when it comes to breakouts".

Katherine Williams
Everyone has the right to feel confident in their skin, and the internal battle many of us are facing with the need to wear a mask and the deep anxiety about what it's doing do our skin and self-esteem is taking its toll. Katherine says she often uses jokes to brush off her worry, "but the truth is, it's heart-breaking - to feel like all your hard work is disappearing before your eyes with every passing day, and there's not enough magic in your nightly regime to fix it".
We have a unique position at Caci, where not only are we wearing masks full time in our clinics, but we're also hyper-aware of the effects mask-use is having on our customers and how they will be feeling about their skin too.
Brandy Wehinger, Caci Clinical Director, describes trying to adjust to mask usage by trying to stay positive. "Like with anything new, there is an adjustment period. This means trying out different masks and different skin regimes to find what works for you." She also says that many healthcare professionals pre-covid have worn masks on a day-to-day basis and have adjusted, so we can too.
When it comes to practical advice, "using a clean mask and wearing less makeup will help decrease breakouts" Brandy says. "Gentle exfoliation a few times a week, a cleanser with salicylic acid and a daily non-comedogenic moisturiser will also benefit your skin in the battle against the bumps".
Whilst masks are our newest full-time accessory, it's important to remember that there are ways in which we can look after our physical skin, but also our inner self esteem too. We have gathered 5 top pieces of advice from our experts:
Connect with a supportive and positive friend or colleague. The pandemic is limiting our ability to connect physically but making the time to connect with ONE positive person can make us feel TEN times better! - Sara
Set a small goal each day...it may be going for a walk, meeting a deadline, tidying an old box of papers. A sense of achieving something however small, can give us confidence to move forward and achieve larger goals - Sara
Hydration, hydration and more hydration, the rubbing, the breathing, along with different fabric is drying out the skin. A really strong hydrated barrier will help protect your skin long-term. - the team at Caci Palmerston North
Cleansing is important, and regular exfoliation to ensure your skin is healthy and better equipped to manage the changing environment. -Brandy
Less makeup is best, but let's make the most of what we can see! So, accentuate your eyes and brows! – check out Sam Hart's top tips below

Sam Hart - samhart.co.nz
Sam Hart's top makeup tips:
Makeup and masks…less makeup is definitely best but let's make the most of what we can see! So accentuate your eyes and brows!
Eyes: Use a nude or white coloured liner in your water line for sparkly fresh eyes. A sweep of bronzer across the eyelids can add warmth without over doing it. Finish off with making your lashes nice and perky! Get out that lash curler and curl them up before a few coats of mascara!
Brows: Spend a little extra time on them for that lift and definition. After you fill them in with brow product, try using a tinted brow gel, brushing upwards, then gently brush across for perfectly groomed brows.
Bonus tip: Avoid silicone in your primer - it's your worst enemy while wearing a mask as your skin can't breathe through the product…and the mask!
---