Can Microdermabrasion help improve acne scars?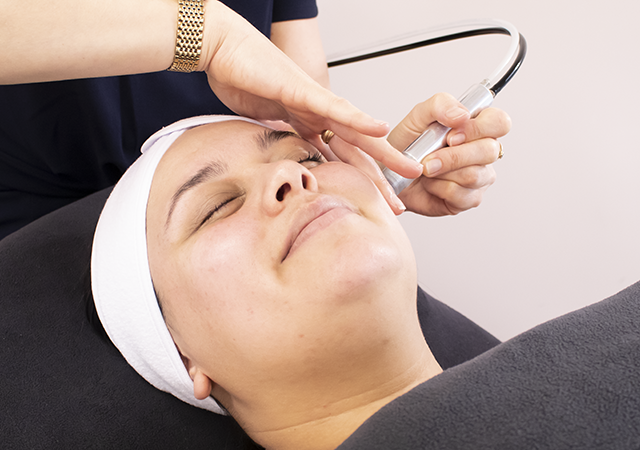 Can Microdermabrasion help improve acne scars?
Anyone that has struggled with acne scarring will understand the impact this can have on your confidence. Many of us spend a lot of time (and money!) trying to get that magic combination that helps improve the dreaded acne. Even once the acne clears up, scars can remain and can become more noticeable as we age, which can knock anyone's confidence. At Caci, we're big believers that everyone should feel confident in their own skin and it's our mission to help with that. Acne scars don't have to stick around forever. Microdermabrasion is one of the several options at Caci to help with scar improvement. Read on to find out how microdermabrasion can help with acne scarring!
In this guide we cover: 
What is microdermabrasion? 
What causes acne scarring? 
So, can microdermabrasion help reduce acne scarring?
Does microdermabrasion work on all acne scars?
How long until you see results from a microdermabrasion treatment? 
How to prolong your microdermabrasion results
What to expect at your appointment 
What to expect after your treatment  
What is microdermabrasion?
Microdermabrasion is a non-invasive treatment that helps to restore a youthful glow to the skin by gently removing the outer layer of your skin, including dull, dead skin cells. Think of it as a very gentle form of sanding - It works by blowing fine crystals onto the skin and sucking away the thicker, uneven outer layer, revealing fresher-looking skin below. The crystals are gently worked into your skin using a handheld device operated by a skincare expert in-clinic. This process encourages circulation and skin cell renewal and is used to treat skin discolouration, pigmentation, sun damage and even stretch marks! It's also a very effective treatment for fine scars, including acne scars. 
What causes acne scarring?
Acne scarring occurs when acne and persistent  breakouts damage the skin and tissue around the breakout. When new skin is laid down after a breakout to heal the inflamed area, the skin can be red and on the thicker side, like a welt.  After some time, the scars that have been healing for a while can result in changes in the pigmentation, causing acne scars to appear as red or brown patches. Sometimes, acne scars (especially older scars) appear as pits or indents in the skin.  There are a couple of different types of acne scarring including  post-inflammatory colour changes and persistent scarring, all of which require slightly different treatment. Check out our blog on acne scar treatments that actually work for more.
So, can microdermabrasion help reduce acne scarring?
The good news is yes, microdermabrasion is a very effective treatment for reducing the appearance of acne scarring. 
Microdermabrasion works to reduce the appearance of acne scarring by physically exfoliating the top layer of skin to encourage cell turnover and stimulate collagen production. It helps to break up the thicker texture of the acne scars, softening the scar and encouraging cell turnover. By stimulating cell turnover, the microdermabrasion treatment can help improve skin texture, revealing fresh, glowing skin below. Microdermabrasion can also help to minimise the appearance of enlarged pores and decongest the skin, helping to prevent acne and breakouts from happening, breaking the cycle if you will! So, if you're looking for a treatment to reduce acne scars, consider trying microdermabrasion. 
Does microdermabrasion work on all acne scars?
Microdermabrasion can help improve skin texture - and as a result, it can also help reduce the appearance of most acne scarring and discolouration caused by acne scars. It does work best for flatter depressed acne scars, which appear as shallow pits in the skin. For acne scars that are deeper, like ice pick scars, microdermabrasion may not be sufficient to improve the appearance and you may need to seek out other more advanced treatments.
Microdermabrasion should also be used when breakouts have subsided. Choosing to get microdermabrasion while you have active breakouts or inflammatory acne isn't recommended, as the treatment can irritate the skin - not what you want! Once acne is fairly well controlled and not as inflamed, microdermabrasion may be recommended as a safe and effective treatment for you. We recommend booking in for a free consultation to get personalised advice on the treatments that would best suit you. 
How long until you see results from a microdermabrasion treatment?
A microdermabrasion skin conditioning treatment performed in-clinic takes about 30 minutes, and you will notice your skin feels refreshed immediately after each treatment. Your skin will have a more youthful glow and look more vibrant right after the treatment. A few weeks after the treatment, you may notice your skin tone and texture improving as the skin cells produce more collagen. This collagen production also helps to plump up the skin and your depressed acne scars. Because your skin renews on about a 30-day cycle, you may begin to see a decline in the effects of the treatment after this length of time post-treatment. Many of our customers see excellent results with a personalised skincare plan that offers regular microdermabrasion treatments alongside other conditioning treatments. 
For best results,  we recommend ongoing skin conditioning treatments to keep your skin looking and feeling its best.  For deep acne scarring, we may recommend a number of microdermabrasion treatments paired with other skin conditioning treatments that are personalised to your needs. A personalised approach and a combination of treatments can help you get the results you're after, and the skin confidence you deserve. 
It's important to note that it may not be possible to completely get rid of acne scars, especially with microdermabrasion alone, but with the right treatments and skincare, you can go a long way to fade and reduce the appearance of acne scars. 
How to prolong your microdermabrasion results
Aftercare is key to prolonging your microdermabrasion results and helping your acne scars to fade. 
Here are some things to consider. 
Protect your skin from the sun
Sun is the most damaging to skin, causing uneven skin tone, wrinkles and age spots. Keeping skin well protected from harsh UVs can help you to keep your youthful post-treatment glow, and prevent damaging the layers of skin that have been revealed after microdermabrasion. A gentle yet effective SPF that we love is the Murad SPF50 City Skin Broad Spectrum.
Don't skip the moisturiser
Your rejuvenated skin post-microdermabrasion will hold moisture more effectively, so now's the time to moisturise baby! Feed your skin with products that contain hyaluronic acid, a substance that helps the skin attract and hold moisture. A moisturiser we love for daytime wear is the Murad Nutrient-Charged Water Gel, while in the evenings we recommend Murad Retinol Youth Renewal Night Cream which is richer and like a big drink of water before bed. 
Stay hydrated
Speaking of water, have you drunk some today? Drinking water and staying hydrated is great for your body and has positive benefits for your skin. Keeping yourself well hydrated will help keep skin supple and glowing. 
Go easy on the active skincare
If you have just had a microdermabrasion treatment and removed the outermost layer of the dermis, your skin may be a little bit tender and require a more gentle routine. Lay off the actives like vitamin c and retinol for a few days at least and reach for hydrating, moisturising skin care products. 
What to expect at your appointment
Microdermabrasion will be performed by a therapist at Caci after your initial consultation. You don't need to do anything to prepare for the treatment, but you may want to ensure you are not wearing any make-up. 
During the treatment, you will lie back and relax while the therapist performs the treatment with the wand of the microdermabrasion device. The device blows fine crystals onto the skin and vacuums off debris simultaneously. The treatment takes around 30 minutes and is non-invasive and largely pain free. Some customers describe a slight scratching sensation and minor discomfort during the procedure.  
What to expect after your treatment
Some redness and a 'tender' feeling immediately after a microdermabrasion treatment is normal, but these sensations typically pass quickly. Your therapist will ensure you have the right aftercare advice and recommend a time for your follow-up treatment. 
You can expect your skin to appear brighter immediately after treatment and continue to improve as your skin cells turn over and collagen production increases. Acne scars will fade a little more after each treatment - your therapist will be able to recommend the number of treatments and if there are other skin conditioning treatments that can help to achieve your desired result. Treatments like LED Light Therapy, Microneedling and Photo Rejuvenation can help with acne scars too.  
Wondering if microdermabrasion is right for you?
If acne scars are something that impact your skin confidence, microdermabrasion and other skin conditioning treatments can help to effectively treat scarring and give you that glow we all desire. To find out if microdermabrasion is the right treatment for you, book a complimentary consultation to discuss with an expert today.
At Caci, we have a variety of membership options which mean you can get varied treatments without the guesswork - we work with you to get the best result so you feel confident in your skin. 
Book a free consultation with one of our skin experts today to get personalised advice - no strings attached! Treat your skin right with tailored treatment plans at Caci. Check out our latest treatment offers
---