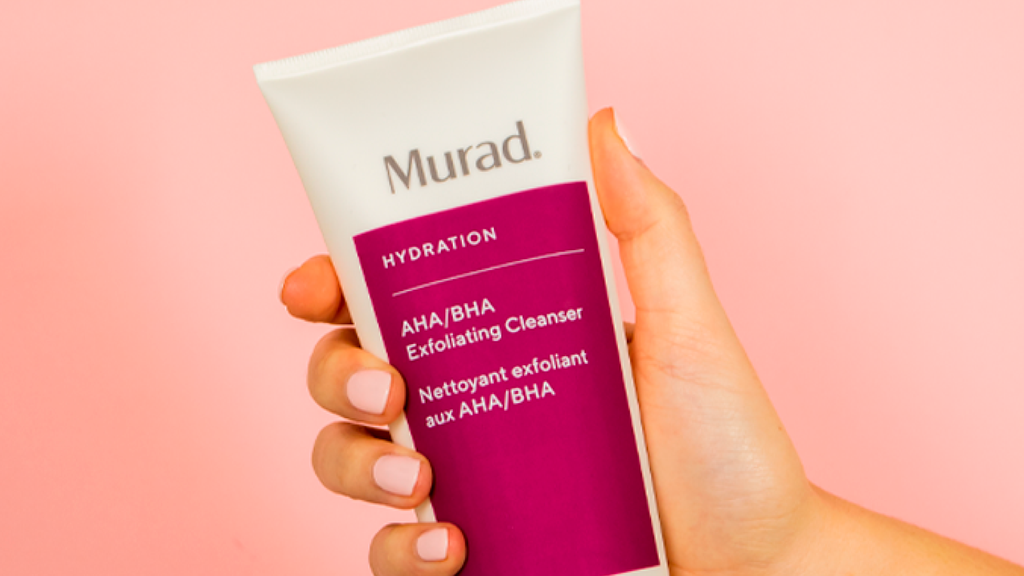 Acids can be a kind of intimidating... not to mention confusing! But really, these molecules are your skin's best friend. They seem to always be there, whenever we need them. Like when we need to exfoliate, or brighten, or hydrate—and they help you say adios to those pesky breakouts.
Read on to get the 101 on what acids you need to know about, how they'll benefit your skin, and where you can find them... and then go tell your actual best friend about them!
Acids? There's different types?!
There sure are different types! And contrary to popular belief, not all acids are used for exfoliating away those dead skin cells (although we do really love the ones that do!) Non-exfoliating acids are just as special as exfoliating acids—they help to hydrate, brighten and strengthen our skin. Here are some of the more common acids you can expect to find in your Murad and Skinsmiths skincare, or during your in clinic treatment.
Lactic acid is naturally found in sour milk (not overly appealing we know) but for skin peels, it's derived from natural sugars. Lactic acid is a more gentle exfoliant thanks to it's larger molecular size—it's great for a first time peel.
Salicylic acid is an oil loving acid derived from the Willow Bark Tree. It dissolves and breaks down oils not only on the skin surface but also deep in the pores to target subsurface congestion. 
Glycolic acid is a water loving acid. It rids dead skin cells, leaving the skin brighter and more hydrated. This guy can be used by most skin types and is a great starting point for those acid newbies wanting to explore peels and exfoliants.
Hyaluronic acid is found naturally in the body and skin with it's main function being to draw and bind water deep into the skin. The result? Plump skin—a crowd favourite. Hyaluronic acid is vital for healthy cell function, assisting the skin with repairs and collagen production.
Ascorbic acid is a pure form of vitamin C and is a powerful antioxidant. Our bodies don't create absorbic acid unlike other acids, so applying it topically is needed for collagen production and healthy skin functions like brightness. Ascorbic Acid is mildly exfoliating compared to other non-exfoliating acids, so do expect a small amount of flaking when you first introduce it. 
Essential fatty acids area non-exfoliating acids that help to regulate oil production. They are perfect for all skin types.


So, what are the benefits of these acids? 
Lactic acid is great for surface peels helping to target dullness, uneven tone, pigmentation. It's also perfect for sensitive skin types—we don't want you to miss out on the goodness of a peel!
Salicylic acid dissolves excess oils on the skin surface and subsurface, targeting congestion and build-up. It also has anti-bacterial and anti-inflammatory properties which is why it's a go-to for acne prone skin types.
Glycolic acid exfoliates dead cells by loosening the glue that holds it to the skin, leaving you hydrated and glowing. Glycolic acid is also known for reducing the appearance of lines and wrinkles and dark spots. 
Hyaluronic acid molecule draws a thousand times it's weight in water—plumping your skin for a beautiful glow and reducing the appearance of lines and wrinkles. It also helps with skin healing and reduces inflammation in the skin. Your body loves water and so does your biggest organ—your skin!
Ascorbic acid is a powerful antioxidant for the skin, helping neutralise free radical damage which slows down the aging process. It is also known for it's brightening effect on this skin, reducing the appearance of dark spots and pigmentation.
Essential fatty acids are great for all skin types but especially dry or sensitive skin. EFAs are vital for a strong skin barrier, working to maintain strong cell membranes and locking in hydration.


Okay, so what acids should I use? 
I have oily or acne prone skin... salicylic acid and essential fatty acids
I'm a newbie and/or have aging concerns... glycolic acid, essential fatty acids and ascorbic acid
I struggle with redness or I have rosacea... Hyaluronic acid
I have a normal or sensitive skin type or I suffer from dry skin... hyaluronic acid and essential fatty acids


I know what acids I need, so what products do I find them in?
Lactic acid Skinsmiths Resurfacing AHA/BHA Peel is a blend of acids that encourages cell turnover and leaves the skin radiant and bright. It works really well with skin that is prone to breakouts and congestion. 
Salicylic acid Murad Outsmart Acne Treatment contains a patented blend of 5 acids that treat not only existing break outs but further breakouts—winning! It regulates oils and smooths skin texture.
Glycolic acid Murad AHA/BHA Exfoliating Cleanser is a gentle exfoliator making it perfect for newbies or those starting to see the signs of aging.
Hyaluronic acid Murad Hydro Dynamic Ultimate Moisture locks in hydration for up to 24 hours, preventing moisture loss and helping to keep the skin plump and glowy. It's great for dehydrated skin and those working in air-conditioned or dry environments. 
Ascorbic acid Murad Vita-C Glycolic Serum with the gold-stabilized ascorbic acid increases up to 60% more vitamin C absorption. Unlike other products, with each pump you receive 100% of the benefit of vitamin C when applied to the skin.
Essential fatty acids Multi-Vitamin Infusion Oil is a light-weight oil that balances and maintains a strong lipid barrier. It infuses all vitamin from A to F to nourish the skin. Thanks to it's small molecular size, it can also be used on acne/oiler skin types to help balance oils, and is an absolute must for dry skin types.
Needing more advice on making the most of your skincare? Send us a message on Instagram or Facebook or book a free consultation.
---