Skin 101: How to reduce Blackheads, no squeezing required!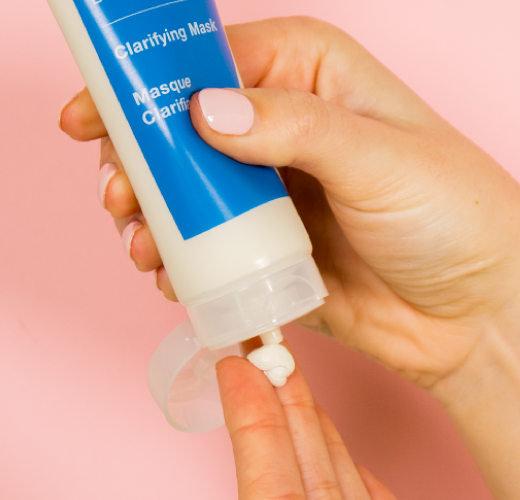 Put simply, a blackhead is a hair follicle or pore clogged with bacteria, oil and dead skin cells that becomes a wide opening at the surface of the skin. When the 'gunk' in the pore hits the open air, it oxidises and turns it black (hence the name).
Blackheads do happen, and they are normal, but there are ways to reduce their appearance - without squeezing them! (do not be tempted!) 
Salicylic Acid  
Salicylic Acid is a wonder ingredient that helps to remove excess oil and dead skin cells from the skins surface. Our Murad Clarifying Cream Cleanser is gentle on the skin and contains 0.5% Salicylic Acid to reduce blackheads - we recommend giving it a go!  
 
Other products that feature Salicylic acid include: 
Murad Rapid Relief Spot Treatment – A spot treatment with 2% Salicylic acid.  
Murad Outsmart Blemish Clarifying Treatment – A gel treament serum with 1% Salicylic acid.  
 
Non-Comedogenic products  
A comedone is the technical term for a blackhead or whitehead. In basic terms, a 'non comedogenic' product is one that has been specially formulated (often without oil) to not clog pores. While certain oils can benefit some skin types it is not recommended for those with blemish prone skin.  
Look for cleansers, moisturisers and makeup that are non-comedogenic.  
Moisturising  
Moisturising is an important part of any skincare routine - especially if you have acne prone skin! While acne fighting ingredients like Salicylic acid can help to prevent and eliminate blackheads, the ingredients can also be drying and stripping of oils, which if overused can actually cause more breakouts. Keep your skin nice and balanced by hydrating!  
Our other tips to fight blackheads without squeezing include:
Retinoids. Retinoids/Retinol works to tighten the pores so blackheads are visually smaller. They also increase turnover of cells and promote cell production and collagen production. Retinoids do make your skin more sensitive to UV rays so be sure to use at night and to always use SPF.

 Our pick for starting out with Retinol is the Skinsmiths PRO Strength Retinol.

Exfoliate 2-3 times a week to help remove the dead skin cells that build up and clog pores -  but remember not to overdo it!

 

Mic a face mask into your routine designed to draw out impurities. Our favourite is the Murad Clarifying Mask
Overall, be patient
Improvements take time. Often, you'll need to be treated for at least three months to start seeing improvements - same goes for changing your skincare routine. The good news is that the team at Caci are here to help!
---