#TeamCaci - Meet Charlotte, Caci Blenheim Senior Beauty Therapist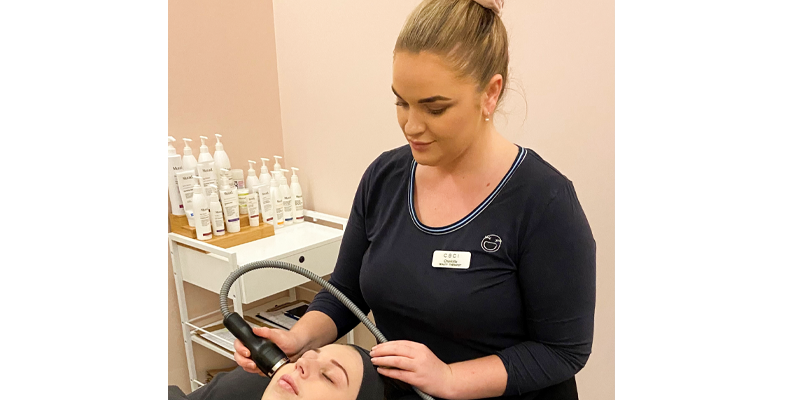 Meet Charlotte, Caci Blenheim Senior Beauty Therapist. Charlotte has worked at Caci for over four years after developing an interest and passion for the industry whilst at school. We sat down with Charlotte to get her perspective on being a Beauty Therapist, why she loves working for Caci and what's in store for the future.
"In 2017 I decided to follow my dreams and study my Diploma in Beauty Therapy. Beauty Therapy was a career that interested me while I was still at school. The thought of doing a hands on job everyday that is related to the Beauty Industry always gave me excitement, however it took me a few years and some different career paths before deciding it was defiantly what I wanted to do. 
A couple of months into my Diploma I knew that I had a passion for skin and that Caci Clinic was where I wanted to be. 
I was lucky enough to be given the opportunity to work at Caci Mt Eden as a part time receptionist while I was still studying in 2018, this gave me an amazing insight into the company and got me even more excited to graduate and start performing hands on treatments in the industry. Once graduating and passing my international iTEC Beauty Specialist exam with Merit I was overwhelmed with excitement when I was offered a full time Beauty Therapist role at Caci Mt Eden. 
During my time at Caci Mt Eden my skin knowledge continued to grow and develop and I became more and more confident in providing the right treatments and advice to my clients. In 2019 I chose to expand my knowledge and take up an opportunity at a Paramedical skin clinic in Auckland. This was an incredible opportunity for me and allowed me to dive a lot deeper into skin conditions, what caused them and how to treat them. 
In 2020 I decided it was time to leave the big city and create a nicer lifestyle for myself so I relocated to Blenheim, Marlborough. I started working at Caci Blenheim immediately and was thrilled to be back with the company. Now with even greater skin knowledge I was ready to create a new clientele and start achieving wonderful results for my clients. In 2021 I was honoured to receive a promotion to Assistant Manager/ Senior Beauty Therapist at Caci Blenheim which is now my current role. 
It's always been an honour working for Caci, being part of such a large National team that works hard to achieve the best results for our clients. Building relationships with my clients and working with them over long periods of time on their skin gives me so much joy, being able to show them their progress photos to prove the time and effort they have invested in themselves is well worth it. I really enjoy sharing my knowledge of skin with my clients and educating them on how to best care for their skin. The use of advanced technology and high performance skin care at Caci allows me to provide results driven treatments that I know will make a difference on my clients skin. 
My future with Caci looks bright and I am excited to see what opportunities may come my way. I will continue to develop my knowledge of the skin and hope to be able to share this with other therapists along the way."
Thanks for chatting with us Charlotte!

Are you interested in joining us at #TeamCaci ? 
---