My Skin Story: Sharyn Casey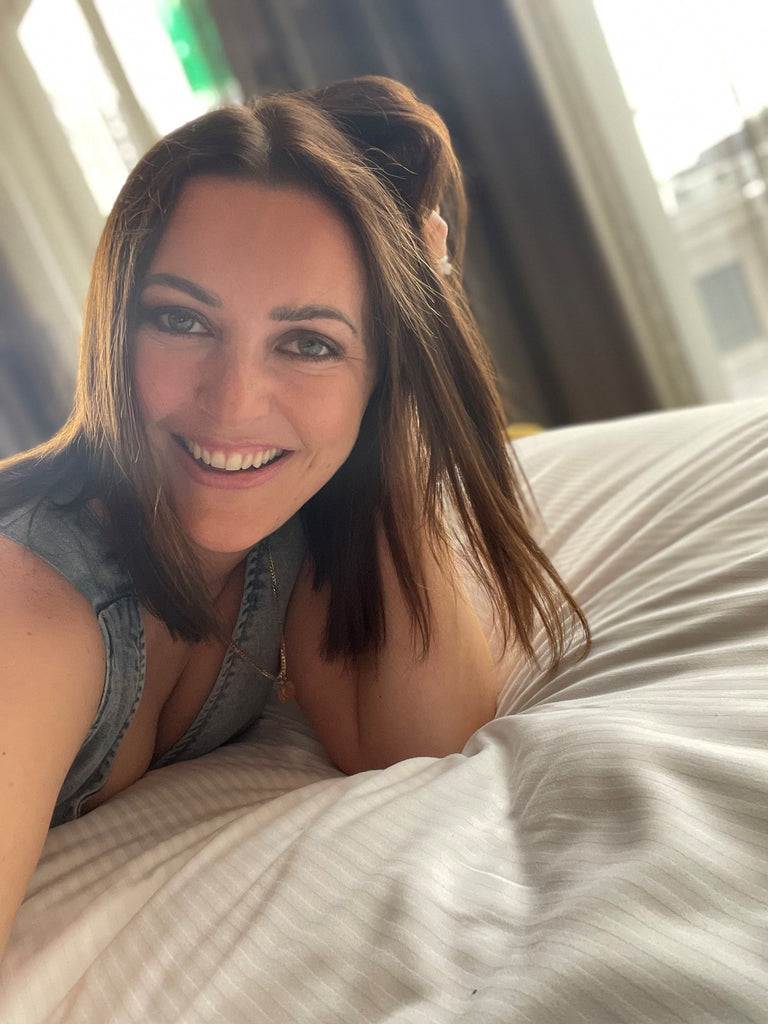 Meet Sharyn, one of our Caci Ambassadors and radio host on The Edge Afternoons.
Get to know her better below and check out her must have treatments and skincare products she is using to meet her skin goals. Because we all deserve 'skin confidence' right?!
Tell us a little about your Caci skin glow-up!

I hadn't really looked after my skin before I started going to Caci 6 years ago, let alone wearing SPF!! Ever since I started going, I've formed really good habits and go without make up most days because I feel much more confident in my own skin.

What were the main changes you noticed in your skin?

It's more glowy, not as red, my break outs are very minimal and not as massive if I do get one! 
What were the main skin concerns you were trying to address, and how did we go in helping you combat them?
Redness and hydration - I've done laser and my fave treatment is the AHA, Glycolic peel, but every single thing I've done at Caci works. I just do as I'm told!

What's your "holy-grail" product/favourite Murad or Skinsmiths product/s?
I love anything Vitamin C, Murad Vita-C Glycolic Serum is my favourite along with the Essential-C Cleanser from Murad. I just love the glow it gives me!
What is your current skincare routine?
My AM skincare routine:
To start, I use Murad's Essential-C Cleanser along with Murad's Hydrating Toner. Once dry I use Murad's Hydro-Dynamic Quenching followed by the Vitamin C Glycolic Serum and Murad Retinol Youth Renewing Eye Serum from Murad. I then finish off with the Vitamin-C SPF
My PM skincare routine:
At night I cleanse with either the Skinsmiths Gentle Cream Cleanser or the Vita-C Cleanser, along with Murad's Hydrating Toner. Once dry I use Murad's Hydro-Dynamic Quenching Essence followed by Murad's Rapid Dark Spot correcting Serum, Retinol Youth Renewing Eye Serum and finishing off with the hydrating and luxurious Hydro-Dynamic Ultimate moisturiser from Murad!
My 'Treat-myself' go-to's
For my 'Sunday Self-care/me-time' I love using the Retinol Youth Renewal Eye Mask and Vita-C Triple Exfoliating Facial after cleansing (before my night time routine)- it is such a treat!
Going forward, what are you skin goals?
HYDRATION! I am obsessed with trying hydrating products for my skin and I love that glowy, dewy look it gets.

When was your first appointment at Caci and how long have you been visiting us?
6 blimmin years ago! 
Tell us a little bit about your experience at Caci. What did you like the most about coming to Caci?
I love that I never have to say what's going on with my skin because the staff at Caci will tell me exactly what I need and their knowledge is incredible!
How are you feeling about your skin now in comparison to when you started your skin journey with us?
So much more confident, I used to never go out without make up, now I hardly ever wear it!
What is "Skin Confidence" to you?
Being comfortable in the skin you're in, not feeling self conscious and being proud.
---