Skin Confidence Club: Blemish Bootcamper, Georgia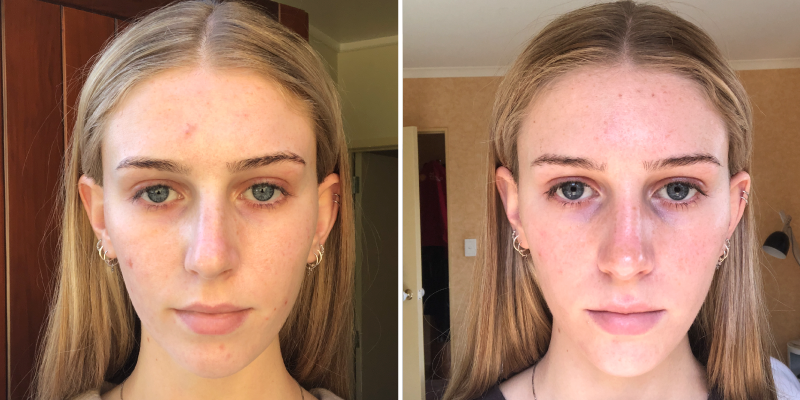 Georgia joined us as one of our very first customers on the Blemish Bootcamp - with the lovely team at Caci Silverdale.
What brought you to Caci - to sign up to the Blemish Bootcamp?
I decided to do the Blemish Bootcamp because I had larger cystic acne coming up on my cheeks as well as patches of smaller acne on my face. 
How did you find the Blemish Bootcamp treatments? 
I thoroughly enjoyed all my treatments, each and every one of them has been calming and an amazing start, or end, to each day. Every time the team explained what was happening, walked me though each of the treatments and what they will do for my skin. I never had to worry about what was happening or what was being put on my face. 
Since starting the Blemish Bootcamp, how is your skin looking?
The overall look of my skin is amazing, it is much brighter and less red. My skin is noticeably healthier, especially with the use of the Murad Clarifying Cream Cleanser and the Skinsmiths Blemish Defence Supplements which came in the starter kit and which I take every day.
How have you found the Bootcamp experience?
It has been an amazing experience and I always look forward to my next appointment - luckily with the Bootcamp this is 3 times a week. The Caci team are super friendly and greet me every day with a smile, and they have really been going on this Bootcamp journey with me.
Have you noticed a reduction in your acne? 
My larger cystic acne has really calmed down and doesn't come up as often. The smaller spots have also been heavily reduced. 
How are you feeling overall?
My skin improvements are giving me more confidence in myself, I no longer feel the need to worry as the appearance of my skin is more glowing and feels so much lighter. I have had many friends and family compliment the change to date.
Thanks so much Georgia for taking us along your Blemish Bootcamp journey! 
---