Skin Confidence Journey Story: Aroha, Thirties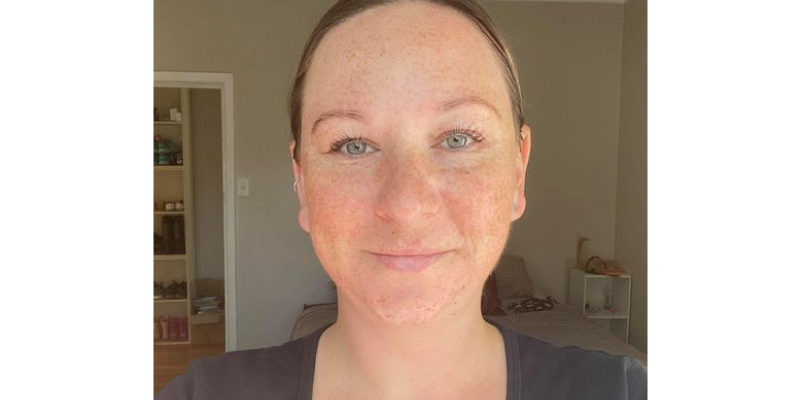 We sat down with some of our Caci lovers in their twenties, thirties, forties, fifties and sixties to chat about their journey to #skinconfidence with Caci. This blog episode, meet Aroha, a thirty-something Aucklander who is vitamin C obsessed—loving how it, and her Caci membership, has changed the way she looks at her skin. Get to know her below.
1. What does your current skincare regime include? 
In the morning, my routine is:
Cleanser - Skinsmiths Purifying Gel Cleanser
Exfoliate (2-3x a week) - Murad AHA/BHA Exfoliating Cleanser
Moisturiser & SPF - Murad Essential C Day Moisture SPF 30
In the evening, I use my favourite Murad product that I've been using for around 2 years now—the Rapid Dark Spot Correcting Serum! HOLY grail for me! I use it every evening on my face and leave to soak in for 5 minutes. I then spritz my face with a toning mist and I then apply my Murad Nutrient Changed Water Gel (we are boaties, so if we have been away on the boat and had lots of sun, I will add a rose hip oil for a extra boost at night, not very often, mainly in summer months.)
2. What were/are your biggest skin concerns that you struggle with in your thirties?
My biggest concerns in my 30s (I'm 34 in June!) is that my skin changed a lot. From oily to more normal/dry and also my freckles too. I never used to do anything on my face at night, but with my skin changing and getting older and dehydrated—I've now been doing the above regime for around 2 years and what a huge difference!
3. What are/were your skin goals? 
Keep hydrating my skin with good stuff! I would also like to continue on with my research and look into Photo Rejuvenation at Caci. It can help to fade my freckles even more so along with the  great skin care regime I have. (They have honestly faded so much since using Murad's Rapid Age Spot Correcting Serum!)
4. What is the best thing about having #skinconfidence in your thirties?
I think the best thing about my skin is that I am very, very lucky to not suffer from acne/enlarged pores. I get a lot of confidence in knowing I have smooth skin and getting older I like to not wear so much make up any more. I believe your skin is like a canvas, the base must be good for your makeup to sit well on your face. In my opinion anyway! It's also great being a part of the Skin Confidence Club on Facebook and seeing other women with the same concerns—we are not alone!
5. What Caci are you a member at?
I visit Caci Graham Street. The team there are very knowledgeable, especially Gretchen who works on front desk, she knows her stuff. I was previously at Caci NorthWest for nearly two years and I have been on an Amerase and Reformaskin membership then. I will never look back!
Thanks for sharing Aroha! Want to hear more Skin Journey Stories? Get to know Isabella, Waihoroi, Deby and Linda.
---