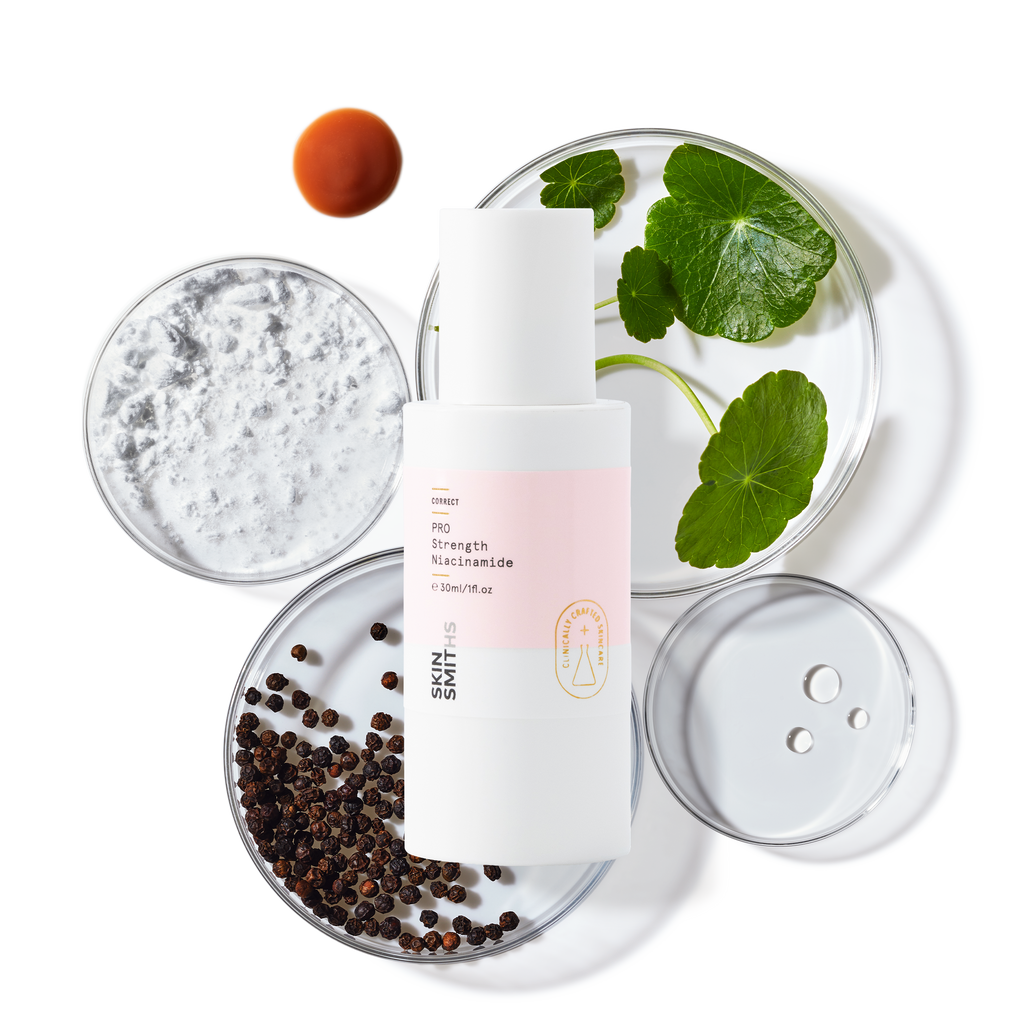 If you like to keep up with skincare trends, chances are you've heard of an ingredient taking the skincare world by storm; niacinamide. If you're intrigued, but not sure where to start - or whether you should use it at all, this article is for you. We'll break down everything you need to know about the wonder product including what it is, what it does when to use it and what not to use it with. 
We often hear the word 'powerhouse' when referring to skincare ingredients that seem to do it all, under this category you have your main stays; retinol and Vitamin C, but since lockdown, there's been a real buzz around niacinamide - which quickly became the most googled skincare ingredient during that time. So what do these 'powerhouse' ingredients have in common? The ability to address numerous skincare concerns from dullness to redness in just one bottle… and niacinamide definitely fits the criteria. Let's delve in…
What is Niacinamide?
Niacinamide, also known as nicotinamide, is a form of water-soluble vitamin B3. Niacinamide is an essential vitamin that contributes to the health of the whole body, and not just our skin. In fact, niacinamide plays a key role in multiple cellular pathways that influence skin barrier function, collagen production and visible pigmentation. 
Because niacinamide isn't something we naturally store in our bodies, we have to replenish your reserves in another way. This can be achieved through the food we eat, green vegetables and poultry are good sources, for example, or you can apply it using topical skincare products.
What are the benefits of Niacinamide?
Another Swiss Army knife of skincare, niacinamide can help with a suite of different skin concerns. It's been shown to improve the skin barrier, reduce dryness, redness, and the appearance of wrinkles, it can even help those suffering from unwanted hyperpigmentation. I think we can all agree, that's a pretty impressive rap sheet. 
Skin barrier function and dryness
Usually when people talk about the benefits of using niacinamide in your routine, strengthening your skin barrier function tends to be high on that list. This feature makes niacinamide particularly beneficial for anyone prone to dry dehydrated skin and facial redness. Improving skin barrier function not only helps to reduce water loss, it also helps to protect your skin from aggravating external stressors.
Rosacea and sensitivity 
In addition to strengthening the skin barrier, niacinamide has a number of anti-inflammatory properties making it a fab ingredient for those suffering from skin sensitivity issues, rosacea or general facial redness and irritation. By improving the strength of the skin barrier function, niacinamide helps to ward off some potential environmental triggers that can exacerbate skin redness and irritation. The anti-inflammatory properties then help calm and soothe the skin.
Acne and congestion
Niacinamide can also be a great skincare incorporation for oily or combination skin who suffer from breakouts or congestion. This is because it works to reduce sebum and oil production, all of which can contribute to pimples, and increase the appearance and size of pores on the skin. It's also known to include antibacterial properties which are known to treat mild cases of acne, as well as calm and reduce breakouts. 
While it may not be as much of a targeted treatment as, say, salicylic acid or retinoids, the inclusion of niacinamide in your routine may help with the over-production of oil which prevents breakouts from occurring in the first place. This makes it a great alternative for dehydrated oily skin or those with sensitive skin who can't handle the more 'intense' ingredients. Clinical studies have shown that as little as 2% niacinamide can reduce sebum levels in 4 weeks.
Ageing and wrinkles
Declining levels of ceramides and healthy collagen as we age give rise to increasingly dry, dehydrated skin and the appearance of lines and wrinkles. As we've discussed earlier, niacinamide supports the production of ceramides that help prevent skin dryness and leave skin feeling soft and smooth. But that's not all it does to support ageing skin - it also boosts healthy collagen levels! Niacinamide supports both the production of new collagen and the breakdown of healthy collagen. By improving your skin's collagen levels, Niacinamide can help make skin appear plump, youthful and healthy.
Clinical studies show that treatments with 4-5% niacinamide could reduce the appearance of wrinkles and increase skin elasticity after 12 weeks.
Hyperpigmentation and pigmentation
Niacinamide is well known as a skin-brightening ingredient. Niacinamide works by inhibiting the transfer of melanin (pigment) to visible cells in the skin. This results in a lightening effect that helps even skin tone and reduces the appearance of dark spots.
How do I incorporate niacinamide into my skincare?
Now that you've read that impressive list of benefits - you're probably wondering, how do I use it, how often, and when? Basically, any skin type can and will likely benefit from the introduction of niacinamide to your regime, but like all ingredients, there could be a small risk that your skin may not like it. Given that we all have unique skin, we always recommend starting with a small amount and then increasing over time to avoid any adverse reactions. However, niacinamide is known for causing very minimal skin irritation or reactions. 
Once you've established this, you should ideally be using it twice a day, both morning and night. For the best results, we recommend using it in a water-based serum or moisturiser as these provide maximum absorption into the skin, unlike a cleanser which will be washed off. 
You definitely want to look for a product that has 5% niacinamide for optimal results, as this is the ideal amount for topical B3, any less and you won't reap the benefits, and any more can lead to irritation and redness. The Skinsmiths PRO Strength Niacinamide 30ml ticks all the niacinamide-related boxes you could possibly think of. It contains 5% of the bioactive form of B3 as well as including a number of other natural ingredients such as Tasman pepper and their signature SauvigNZ, a powerful antioxidant complex that helps to promote collagen and reduce redness. It's basically the holy grail of all the niacinamide products. 
The Murad Revitalixir Recovery Serum is great for dull, tired, stressed-out skin as this revitalizing sphere-infused serum visibly re-energizes skin, smooths stress-induced expression lines and renews vibrancy. It contains niacinamide which helps refine skin texture and combats signs of stress on skin.
What ingredients are safe to combine with niacinamide?
Yet another great thing about niacinamide is that it's safe and effective to mix with all other ingredients on your skincare roster - meaning you can use it morning and night without fear of any complications! 
How long before I see results?
Like all skincare products, results will vary largely from person to person and this includes how long it will take for you to notice results. Depending on the skin concern you are trying to treat and its severity, however, you should start to see results anywhere from 2-4 weeks and the results will likely continue to improve over time. 
Ready to incorporate Niacinamide into your skincare?
If you're suffering from any of the skin concerns mentioned above, or you just want to glow up your already flawless skin then pop into your local Caci Clinic. They can give you a free sample of the Skinsmiths PRO Strength Niacinamide and, honestly, you're not going to regret it! This wonder product has benefits that span across the whole spectrum, with activated niacinamide and Vitamin B5 to effectively strengthen the skin barrier, alongside Tasman Pepper and Centella asiatica extracts that work simultaneously to soothe and calm irritated or red skin. 
It also contains Skinsmiths signature ingredient SauvigNZ, which is a protective antioxidant and nature's answer to defending your skin against daily exposure of UV and pollination - which are proven to rapidly increase the signs of ageing. 

So what are you waiting for? Get into your nearest Caci Clinic and experience the incredible benefits of the latest skincare rage for yourself!
---