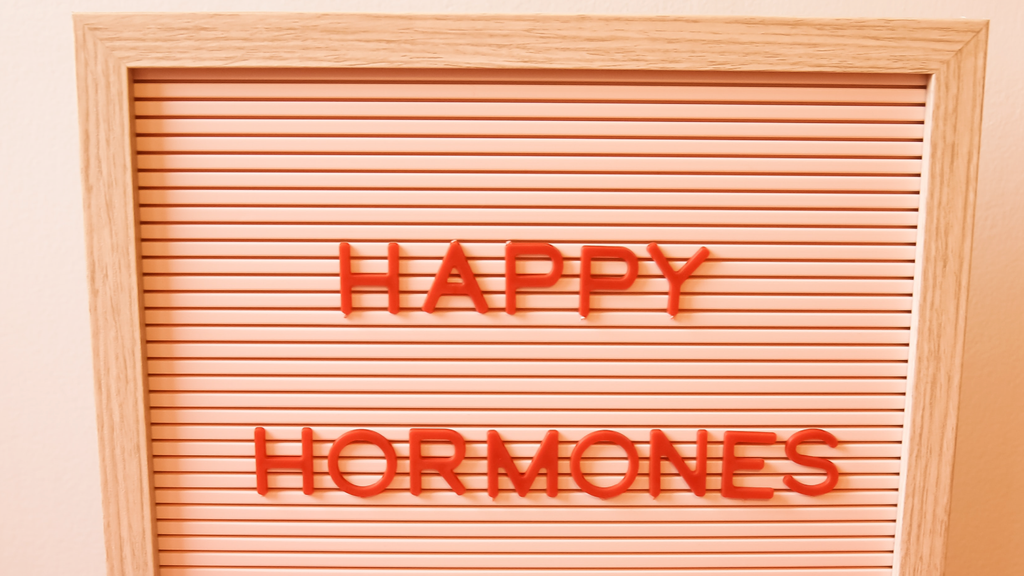 Hormones are super controlling and can affect everything from your behaviour to your appearance. Like hormones, calm down girl! So it comes to no surprise, that many customers we see at Caci have concerns that are affected by their hormones and want to take control.
Read on as we share everything you need to know about hormones and your skin, plus how we recommend taking control to reach total skin confidence!
How can hormones affect the skin?
Hormones can affect our skin in many ways, and what it comes down to is how they can alter your oil flow. Your skin is covered in sebaceous glands — these secrete an essential oil called sebum which helps keep your skin healthy. These glands have receptors on them which respond to your hormones, including oestrogen and testosterone.
Sebaceous glands are sensitive to androgens like testosterone. The more androgens, the more oil you produce. Both males and females produce androgens, especially during puberty — which is what can cause oily skin during this time. We are seeing more and more females with an increase of androgens outside of the common puberty timeframe.
Oestrogen is also thought to affect the amount of sebum you produce. At very high doses, oestrogen stops oil production. Oestrogen also helps:
To increase collagen production and keep your skin thick
To hydrate your skin
Support wound healing
Due to hormonal activity we can get excess sebum that cause breakouts that become the inflamed, sore to touch blemishes we call papules. A tip to know if you are experiencing these papules, when you try to "squeeze them" they will hurt and not much will come out from it apart from clear liquid. So no squeezing as they will be more likely to scar!
On the other side of hormonal activity, it can result in less sebum developing resulting in skin drying out. This often coincides with menopause! As people transition into the menopause your hormone levels drop — leading to changes in your skin. These involve:
Dry or itchy skin, this is due to dropping oestrogen levels
Acne, this is due to dropping oestrogen levels and increasing testosterone levels
Loss of elasticity in skin due to dropping oestrogen and collagen levels


What treatments do you recommend when experiencing the breakouts that come with oily hormonal skin?
Murad Peels – Rapid Resurfacing Peel, Intensive Resurfacing Peel and Retinol Power Peel all help to refine pores, remove dead skin to unclog pores, and increase the healing rate of breakouts.
Microdermabrasion – this popular treatment works to remove dead skin and both refine and unclog pores. Sign me up!
Blemish Control Facial – these facials are completely customizable to the customer. If acne is a key concern, the treatment can be made specific to oily skin that suffers from breakouts. But remember to note, not all hormonal breakout skins are oily skin types, so opt for this if you are on the oilier side.
LED Light Therapy - Both blue and red light therapy can work to bring down any inflammation in breakouts, as well as kill any bacteria that's present.
Sonophoresis Skincare Infusion - Increases hydration in the skin which can help to balance out excessive oiliness. We also have an infusion (redness therapy) that helps to bring down any inflammation. This will result in your breakouts healing faster.
What treatments do you recommend when experiencing dry skin concerns from hormonal skin?
Sonophoresis Skincare Infusion – This treatment increases hydration levels in skin to aid any dryness and sensitivity at a deep level.
Murad Peels – use our Rapid Resurfacing Peel, Intensive Resurfacing Peel or Retinol Power Peel to exfoliate any excess dead skin build up allowing deeper penetration of moisture building ingredients.
Microdermabrasion - Exfoliates excess dead skin allowing for penetration of nourishing and moisture building ingredients.
LED Light Therapy - Red light therapy works to build collagen in the skin. This will support the skin structure from any dryness resulting in fine lines. Collagen will also help to plump these out leaving a more healthy rejuvenated appearance.
Microneedling (Collagen Induction Therapy) – This treatment causes a wound response to skin resulting in building new collagen to support the skin structure and plump out any fine lines. Due to the nature of dry skin lacking in sebum, the skin can be more fragile and become more lined. Having microneedling will result in the skin appearing more rejuvenated.
Which skin products do you recommend to treat hormonal skin concerns?
As discussed, hormones affect all skin differently. It can cause dryness, or it can cause oiliness. It's important to work to find something that's right for you. But don't worry, pop into any Caci clinic and one of our team members would be happy to point you in the right direction. But based on what we know, keep reading for the products we find shine the most for majority skin types affected by hormonal concerns.
We recommend cleansing skin AM and PM with Murad's Prebiotic 4-in-1 MultiCleanser to help skin maintain a strong barrier. This non-drying formula features an ultra-cleansing peptide to eliminate dirt and excess oil, while moisturizing emollients deeply hydrate.
We recommend exfoliating with Murad's AHA/BHA Exfoliating Cleanser to keep skin clear. This product helps to reduce breakouts caused by excessive oiliness and can be used 2-3 times weekly.
If you are finding blemishes in only parts of the face, we recommend spot treating with Murad's Clarifying Mask or with Skinsmiths Blemish Rescue Treatment. If you're oily and breakout prone, you can also consider treating from the inside out with Skinsmiths Blemish Defence supplements!
Otherwise look for treatments with some of our fave skin loving ingredients. Retinol helps to normalise skin functions and reduce clustering and debris around follicles by speeding cell turnover (check out Murad's Retinol Youth Renewal Serum, or Skinsmiths PRO Strength Retinol or Booster Plus). And perhaps the most well-known ingredient to treat and break up deep blemishes, look for treatments with salicylic acid (check out Murad's Outsmart Acne Clarifying Treatment or Skinsmiths Resurfacing AHA/BHA Peel).
Make sure you're hydrating your skin with a good moisturiser. If you're on the oilier side, we recommend Murad's Clarifying Oil-Free Water Gel. If you're on the dryer side, we'd recommend Murad's Hydro-Dynamic Ultimate Moisture. For an extra boost of moisture, there's no looking past Murad's Multi-Vitamin Infusion Oil which also helps the skin to heal and reduce inflammation.
Needing more advice on making the most of your skincare? Send us a message on Instagram or Facebook.
---