Skin 101: Hydradermabrasion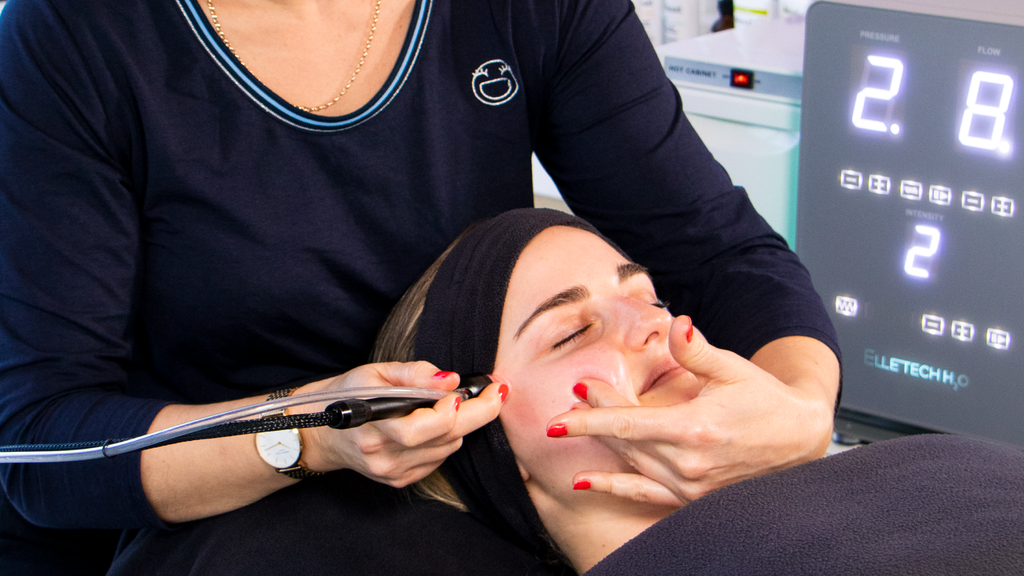 Let's be real, nothing beats glowing skin. It's a worldwide skin goal that many have been striving to achieve for generations—more recently giving birth to the ever popular hashtag, #glowup. 

But in all seriousness, glowing skin is like the epitome of skin health. It symbols a healthy and clean base—meaning the outer layers of our skin are stoked to be here. It's like they're signaling to the outside world: hey there, I'm feeling myself today! 
The only thing that can make glowing skin better, is when it can be achieved in a mere 30 minutes. And while we don't want to mislead you—as long term skin health should be maintained with regular treatments to keep that glow—our newest skin conditioning treatment will leave your skin glowing in just half an hour. Say hello to the glow with Hydradermabrasion!
Hydradermabrasion is one of our most nourishing skin treatments. It deeply cleanses, exfoliates, and stimulates the skin through our active Skinsmiths detox solution, electroporation, suction and a diamond exfoliating tip. Leaving you with healthier hydrated and glowing skin.
So, what are the benefits?
Aside from walking away with glowing, clean skin straight after treatment—you can expect to:
Clear congestion
Increase hydration
Boost cell turnover for healthier skin
Calm redness
How does it work? What can you expect?
Hydradermabrasion is the more hydrating, soothing sister to our popular exfoliating treatment, Microdermabrasion. If you've experienced a Microdermabrasion before, then you'll have a fair idea of what to expect.
But for the sake of our 'dermabrasion' newbies, prepare for ultimate relaxation with a mini massage while the prepping solution does it's thing, plus you'll enjoy a cool, soothing feeling as the detox serum penetrates the skin while the diamond tip exfoliates. Click play below to get an overview of the treatment—*warning* extreme desire to book yourself a Hydradermabrasion is likely to occur.
Why do we use a bespoke Skinsmiths Detox Solution?
To cleanse, exfoliate and clarify the skin! Skinsmiths specifically created this bespoke solution that is gently pulsed through electroporation to deeply penetrate:
Green Tea Extract: packed full of antioxidants that work against the effects of ageing 
Aloe and Chamomile: soothes and calms irritation while the treatment exfoliates and removes dead skin cells
Hyaluronic Acid: hydrates the skin and draws in moisture
The result? Your skin is hydrated and soothed while gentle exfoliation rids of excess skin, dirt and grime. 
When will I see results?
Immediately! Great, right? You will notice that your skin feels clean, glowing and hydrated immediately after treatment. Longer term, results like less congestion and redness can take a few weeks. 

How do I know it's right for me?
This treatment is generally suitable for all skin types! You just need to avoid it if you've had an advanced skin treatment like Microneedling or Photo Rejuvenation in the last two weeks. Book a free consultation to chat to one of our skin experts, or ask your current Caci Therapist, who will be able to advise if Hydradermabrasion is right for you. Alternatively, you can take our Skin Quiz—it only takes 5 minutes.
You're in? Great—here are your next steps!
If you're a Reformaskin member with us at Caci, you can simply ask your Caci Therapist to look at incorporating into your Skin Health Plan. If you're a Freedom, Amerase or ChillSculpt member, make sure to ask about trying it too!
Click here to get yourself booked in for your first treatment—or touch base with your Skin Therapist next time you visiting your local Caci. 
---