Selfcare Sunday with Alex's Kitchen Story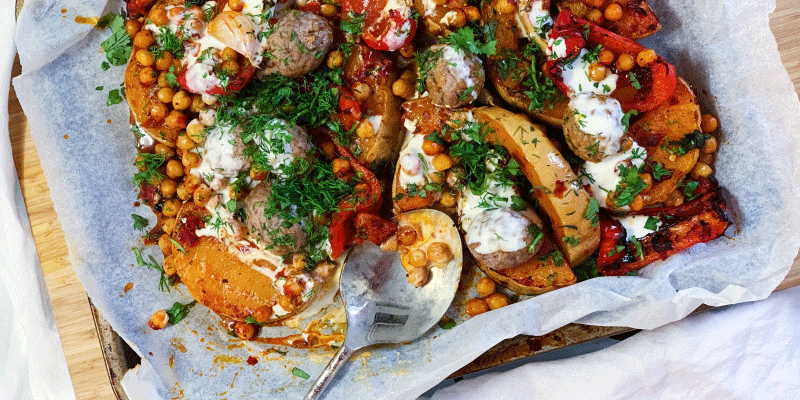 Alex of Alex's Kitchen Story has created a delicious recipe for us to turn to on a Sunday when we need to give ourselves some TLC. Nothing says selfcare like creating a lovingly healthy yet comforting meal to tantilise your taste buds and nourish your body (and skin!)

You can keep up to date with Alex and her delicious recipes by following her on Instagram @alexskitchenstory. 
Thanks Alex and bon appétit!
Harissa Butternut Tray Bake with Lamb Meatballs 
1 butternut 
1kg lamb mince (or around the same weight of veggie meatballs) 
2 red capsicums 
2 tins chickpeas 
3 tbsp harissa paste 
1 lemon 
2 tbsp olive oil 
1 tbsp honey 
2 tbsp Greek yoghurt 
2 tbsp tahini 
3 tbsp water 
Small handful dill 
Small handful coriander 
Salt & Pepper 


Method:
Pre heat oven to 180 degrees C.
Mix harissa, lemon juice, honey and olive oil in a large mixing bowl.
Slice butternut into circles, then in half into semi circles and place in the bowl with the marinade and mix around until each piece is well coated, season well. Place on an oven tray and into the oven for 20 mins.
Slice capsicum into large pieces and add to the bowl with the harissa, stir around as you did the butternut and coat each piece.
Once the 20 minutes is up, add this to the tray with the butternut, season, and place in the oven for another 15 minutes.
Drain the chickpeas, and pour into the same harissa bowl again and stir to coat using up the remaining marinade.
Roll the mince into small meatballs and set aside, miss this step if using pre made veggie meatballs.
Remove veggies from oven once the second 15 minutes is up and pour the chickpeas and all the remaining marinade over the veggies.
Place the meatballs on top of the chickpeas, season again, and place back in the oven for the final 10 minutes.
While everything is in the oven, dice up the herbs and mix the dressing by adding yoghurt, tahini and water into a jug and mixing until runny. Add more water if you need.
Remove from the oven and drizzle on the dressing, and sprinkle on the herbs.
You can either have everyone serve themselves straight from the oven tray,
---