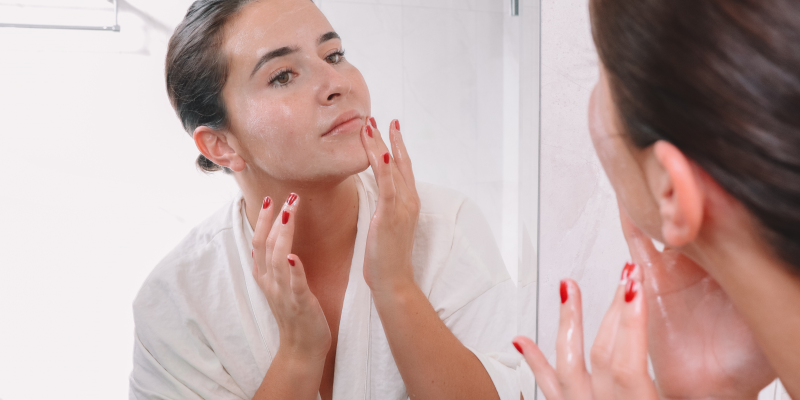 We all know that the idea of scrubbing away dead skin to reveal a fresh and flawless face is extremely satisfying. Like pulling weeds in the garden, or finally giving your oven a deep clean. In the eyes of a skincare addict, exfoliating really is comparable to a complete reset.
But why exactly is exfoliating so important in a skincare regime? What is a chemical exfoliator versus a physical exfoliator - and which do you pick? Read on to get the Caci lowdown on all you need to know about exfoliants.
Why use an exfoliator?
When we're young, our skin is a real friend; soft, bouncy, and wrinkle-free. Even our dead skin cells are pre-programmed to fall off roughly once a month. But as soon as we start to age, that's when we see these dead skin cells hang around just a little too long. These dead skin cells, although tiny, are what often cause dull, discolored, and breakout prone skin.
So where can we go from here? Enter exfoliator! Exfoliators clean and purify clogged pores caused by dead skin cells, leftover makeup, and environmental pollutants. By getting rid of dead skin through exfoliating, we encourage fresh cell turnover, we boost circulation (hello glow!), we prevent acne, and we help to even out skin tone. Even better, exfoliating helps other skincare products penetrate deeper into the skin.
What type of exfoliator is best for me - physical or chemical?
You'll come across two different exfoliators in life – physical exfoliants (think face scrubs) and chemical exfoliants (think acids and peels).
Physical exfoliants are what we tend to think a good exfoliant makes being the kind of exfoliator most of us are first introduced to. However physical exfoliants can sometimes be too harsh for many skin types and tend to be best used on thicker skin. And if you have sensitive skin, or rosacea, we'd recommend dodging a physical exfoliant like texts from your boss on a weekend.
'Acid' doesn't sound too appealing to put on your face of all places, and 'peels' can sound a bit too intense – however chemical exfoliants (which we discussed are acids and peels) are more gentle than physical exfoliants. This makes it a great choice for majority skin types. Rather than scaping off dead skin, chemical exfoliants dissolve the glue that makes the dead skin stick in the first place.
Common acids used in chemical exfoliants are alpha hydroxy acid (AHA) and beta hydroxy acid (BHA). AHA comes in a few forms being lactic, malic, glycolic, and tartaric acid. AHA is water soluble, so it draws moisture into your skin to keep your face hydrated at the same time it exfoliates! BHA is commonly in the form of salicylic acid, an ingredient often used to treat acne-prone skin. BHA is oil soluble, meaning it breaks down any oil clogging your pores so you can say buh-bye blackheads, whiteheads, and pimples! BHA is also known to be anti-inflammatory.
In terms of whether to use physical or chemical exfoliants – there is no definitive right or wrong answer. But it's safe to say, at Caci we love our chemical exfoliants. Check out some of our favourites:
An all-rounder, top of the class, this 2-in-1 product with both AHA and BHA is our most popular exfoliant to suit most skin types.
Murad Skin Smoothing Polish
Witch hazel and cinnamon extract visibly tighten pores and help control shine to leave skin smooth to the touch.
Formulated with AHA, BHA and TXA (welcome tranexamic acid), this product specializes in accelerating cell renewal.
This product focuses on our AHA's being packed with glycolic, lactic, and tartaric acid, just to name a few. Specifically made for the PM.
Physical, chemical & enzymatic exfoliants gently but effectively slough off dead skin cells, reinvigorate dull-looking skin and instantly smooth texture.
Hello BHA's! If you have acne-prone skin and want to say goodbye to scarring, you can't look past this wonder product.
When to use an exfoliator?
With most exfoliants, we recommend 2-3 times a week unless otherwise directed. Exfoliators are usually a step 2 treatment after cleansing and before moisturizing (again, unless otherwise directed). But the main thing to takeaway – never over-exfoliate (especially with physical exfoliants)!
What if I want an in-clinic exfoliation treatment?
At Caci, we have some favourite in-clinic treatment options to fulfil all of your exfoliation dreams. For an instant skin pick-me-up, we can't get enough of Microdermabrasion. This non-invasive skin resurfacing treatment literally sucks the oil and dirt from your pores to reveal brighter, more refreshed skin!
And now that we know that 'acid' and 'peels' aren't scary words – we'd also recommend checking out our Murad Advanced Techoceuticals Peels. This treatment is completely personalized to deliver the best results based on your skin type and concerns.
Needing more advice for your skin? Send us a message on Instagram or Facebook.
---