The Ultimate Guide to Treating Acne-Prone Skin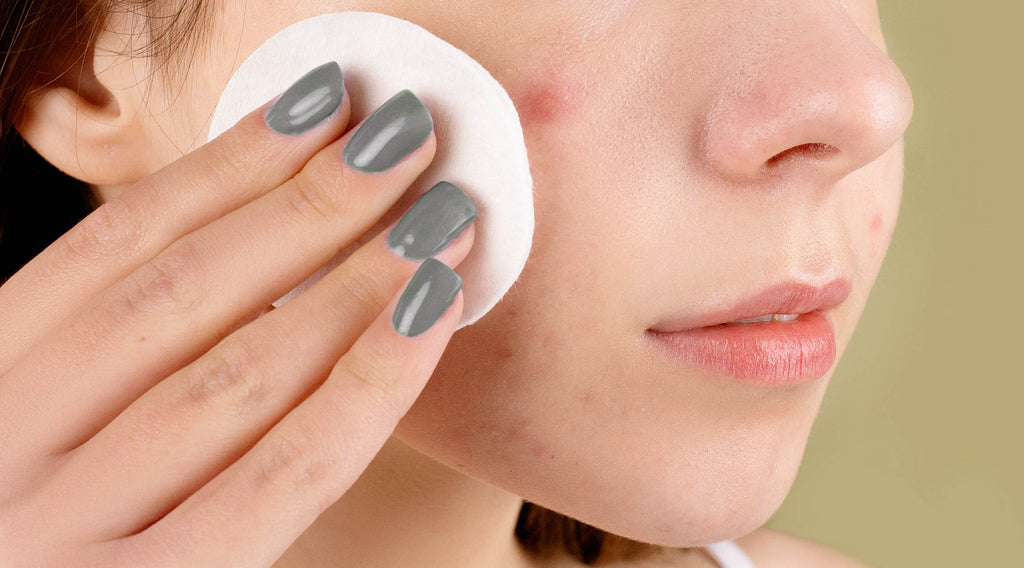 Acne is something that affects many, and it can be hard to know where to start when it comes to finding the right treatment for you.  Acne affects people of all ages, from teenage acne to adult acne. Whether you're suffering from acute acne or the occasional breakout, pimples and breakouts can be frustrating and painful. 
Acne can knock your confidence and be incredibly stressful to deal with, which is why finding the best treatment for your acne is important. With the right combination of acne treatments and products, you can support acne-prone skin and start to minimise breakouts and clear the skin. If the aim is to feel confident in your skin, you've come to the right place. 
In this guide, we're breaking down some of the most effective treatments for clearing acne. 
What is acne-prone skin?
Acne or blemish-prone skin is skin that has a tendency to develop pimples and break out frequently. Acne is caused by hair follicles becoming blocked with oil and dead skin cells. Bacteria is trapped in the pore, which leads to inflammation, causing pimples and breakouts. 
If you suffer from frequent breakouts, it is likely you have acne-prone skin. Your pores tend to clog easily making your skin more susceptible to blackheads, whiteheads or pustules, more than other skin types. Acne-prone skin is not just common in teenagers but it can also happen in your adult years too. They can appear on the face, neck, shoulders, back or chest (body acne) and can be triggered at any point in our lives.
There are 6 common types of acne, of which you may have one type or more than one at a time. Acne can be light, moderate or severe and may need a little or a lot of help to treat. 
Common causes of Acne
There are several things that cause or can contribute to acne:
Bacteria
The skin has many kinds of bacteria living on it, making up our natural skin microbiota. An imbalance in the skin (like excess oil production) or bacteria build-up can contribute to blemishes and breakouts.   
Hormones
Whether you're in your teen years or an adult, hormones can play a large role in acne development. Many acne flare-ups occur at the most hormonally active times in our lives like puberty and pregnancy, periods, and post oral contraceptive pill.
Dead skin cell build-up
The outer layer of our skin is made of many layers of dead skin cells  that serve as protection for the underlying skin. When these cells build up they can block pores leading to blemishes forming.
Diet
According to research from Harvard, there is a correlation between the chances of having acne and consumption of high-fat foods including milk and meat, sugary foods and beverages as well as a combo of both. That doesn't mean you can't consume these foods, but it may be contributing to your acne if consumed in excess. 
Generally, a diet that is good for the heart is good for supporting healthy skin. Foods rich in antioxidants, whole grains, clean proteins, vegetables and fruits are great for the health of the body and the skin. 
Stress
Inflammation is the body's natural response to stress. It can be environmental or emotional stress that causes the body to release chemicals that cause inflammation. Inflammation in your skin is a breeding ground for acne.
Best ways to treat acne and acne-prone skin 
Beyond trying to treat the root causes of your acne, there is a wide range of treatment options in the acne-fighting toolkit that you can utilise. 
Understand your acne type
Mild acne may be able to be resolved with good quality skincare, a gentle routine and occasional treatments.
Moderate acne will benefit from a regular good skincare routine but may require more advanced treatments and guidance from skincare experts to see changes. 
Severe acne will also benefit from more advanced treatments, but in some cases may need prescription-strength skincare or medications to help persistent and stubborn acne. 
At Caci, we see clients with all types of acne and work with you to create a custom plan to address your concerns. 
Implement a good skincare routine for acne
An acne-fighting skincare routine doesn't have to be complicated, but consistency is recommended. 
Cleanse your skin
Cleansing should always be the first step in any good skincare routine. It will go a long way in keeping your skin healthy and reducing bacteria build-up. Gel cleansers are a common pick for those with combination/oily acne-prone skin. Try Murad's Clarifying Cleanser - formulated for acne-prone skin or Skinsmith's Purifying Gel Cleanser which is a great gentle cleanser that still gives you that deep clean without stripping your skin.
Exfoliate
Put down the hard scrubs! While it may be tempting to want to give your skin a good scrub, especially if it's oily, physical exfoliators will only aggravate and inflame your acne. Chemical exfoliators are an effective way to tackle clogged pores and dead skin cell build up on the skin. These work by using acids like glycolic, lactic and salicylic to break down the dead skin gently. Some of our favourite exfoliators for acne-prone skin include: 
Murad AHA/BHA Exfoliating Cleanser

is a great way to incorporate exfoliating into your skincare routine. You can use it in place of your normal cleanser 2 - 3 times a week which leaves your skin looking and feeling fresh.

Murad Daily Clarifying Peel

helps clear pores and even out texture. This alcohol-free solution contains both glycolic and salicylic acid, both great exfoliating ingredients.

Skinsmiths Resurfacing AHA/BHA Peel

 is an exfoliating treatment, packed with a mix of high concentration active ingredients to boost radiance and smooth skin texture.
Try a toner
Once your skin has been cleansed and exfoliated, go in with a hydrating toner. Long gone are the days when toners were alcohol-heavy products that stripped your skin of all its goodness. Now we look at toners with replenishing ingredients that nourish and calm your skin. 
Look for balancing serums
Serums are products designed to deliver a high concentration of active ingredients directly into your skin. You want to look for serums that have calming and hydrating properties that will minimise irritation and soothe the skin. Look for ingredients like retinol (to help with skin repair and reduce the appearance of scarring) and vitamin C (to help with hyperpigmentation and heal visible skin damage). Some of our recommendations are:
Murad Vita-C Glycolic Serum

is a serum that contains both vitamin C and glycolic acid. The glycolic acid helps to remove dead skin cells and helps the vitamin C to penetrate skin more effectively.

Murad Retinol Youth Renewal Serum

is a serum that combines 3 retinol technologies and hyaluronic acid to help even skin tone and boost radiance. A great serum to help with skin repair, getting deep in the skin as well as keeping your skin hydrated.
Spot treatments
Spot treatments are great at targeting that one inflamed spot that just won't seem to go away. Put down the home remedies like toothpaste and baking powder and instead reach for:
Moisturise
It is important to still keep your skin hydrated and to keep your natural oils at bay. Avoid heavy moisturisers that have ingredients like shea butter and try a gel moisturiser (if you are more on the combination/oily side). We recommend Murad's Nutrient-Charged Water Gel - it has a lightweight gel-texture and instantly hydrates and plumps skin.
SPF (AM only)
Sunscreen should be part of your daily routine regardless of whether you spend a lot of time outside or not. UV damage can delay your skin's healing time and cause breakouts and scarring to linger longer. Murad Oil and Pore Control Mattifier SPF 45 PA++++ is a great lightweight SPF that visibly reduces pore size and excess oil over time while keeping your skin hydrated.
Stay consistent
Consistency is key when treating acne-prone skin. It can be tempting to want to switch it up but we don't recommend jumping between lots of different products. You may need to try treatments for 8-12 weeks before you see results. You may also experience purging as your skin adjusts too - be patient!
Try not to pick at your skin
You've probably heard this one before, but picking at your skin is a big no-no. Touching your face can spread bacteria which can make acne spread or worsen. In these Covid times it is extra important to keep face masks clean too. You should be changing out your face masks every day, as bacteria and dead skin can build up causing more breakouts.
Don't pop pimples, even if it's tempting. It only increases your chances for inflammation and can lead to scarring or spreading bacteria.
Look to LED light treatments


LED Light Therapy is a gentle, non-invasive treatment that works to soothe inflamed skin while stimulating the skin's natural regeneration process. There are two types of light used depending on what's best suited for your skin:
Blue light helps fight against acne-causing bacteria while helping with skin cell turnover and calming inflammation.
Red light enhances the skin's natural defence mechanisms to help speed up healing and encourages happier healthier skin.
The treatment is completely painless (in fact it's actually really relaxing) and is only 20 minutes. You'll feel refreshed immediately. We do recommend a course of light therapy, depending on your skin concerns.
Try a blemish control facial
At Caci, we've developed the Murad Blemish Control Facial specifically made to reduce blemishes and improve skin clarity, while soothing redness and inflammation.
It is a 30-minute hydrating facial treatment, great for opening clogged pores and calm inflammation.
This treatment includes:
Cleanse & Tone: A double cleanse to prepare skin for treatment. The first cleanse removes makeup and debris and the second cleanse helps to clean the skin. Toner helps to remove any last traces of dirt or makeup.
Murad Blemish Control Facial: The Murad Blemish Control Facial is applied to the skin and features:
Papaya and Pineapple Enzymes

dissolve congestion and polish away dull skin cells.

Gingko Biloba Extract

provides antioxidant and anti-inflammatory benefits.

Bitter Orange Extract

improves skin hydration and strengthens the skin's barrier.

Matricaria Flower Extract

helps to comfort and soothe skin.

Sodium Bicarbonate

deeply cleans pores and purifies.
This works on the skin for up to 10 minutes and is then removed.
Murad Clarifying Mask:. The Clarifying Mask boosts the blemish-fighting power of your acne regime. Kaolin and Bentonite clays purify and deep-clean by drawing out and absorbing impurities. Sulfur reduces acne's severity as it encourages skin to clear.
Hydrate: A moisturiser, chosen for your skin type, is applied to hydrate your skin. 
Treat: An eye cream and/or serum, chosen to address your skin concerns is applied to further nourish your skin.
Protect: Sun protection! An SPF protection is applied to prevent the visible signs of ageing and defend your skin from the New Zealand sun.
Get a deep clean with Hydradermabrasion
Get a truly deep cleanse and advanced exfoliation with our Hydradermabrasion treatment. This treatment deeply cleanses, exfoliates and stimulates the skin through our Skinsmiths Detox Solution, electroporation (that helps penetrate the detox solution for better absorption) and a diamond exfoliating tip to remove dead skin cells.
This treatment uses our Skinsmiths Detox Serum, infused with Green Tea Extract, Aloe and Chamomile plus Hyaluronic acid. This combination of ingredients are great for calming irritated skin as well as keeping your skin hydrated.
You can expect noticeable results immediately with skin feeling fresh, clean and hydrated.
Consider diet and lifestyle changes 
Diet, stress and smoking can exacerbate acne and may be worth looking at when treating acne. 
Poor sleep and fatigue can impact acne as it leads to an increase in a hormone called cortisol – also known as the 'stress' hormone. Cortisol can cause the sebaceous gland to increase production of sebum which can lead to acne flare-ups. 
Take a holistic approach and heal your skin from the inside too with supplements. Skinsmiths Blemish Defence Supplements are specially formulated with vitamins and minerals - like vitamin A (reduces inflammation and normalises cell turnover) and zinc (encourages healing) - to support your body's internal systems for happy, healthy skin.
Treat Acne with Blemish Bootcamp
Save on advanced treatments and target acne with Blemish Bootcamp.
This eight-week treatment plan has been designed by Caci to address blemishes internally and externally. A combination of skin-correcting treatments, skincare and supplements work to reduce blemish-causing bacteria and improve your skin health.
Find the best treatment for your acne at Caci 
Acne is something that affects many and can be extremely frustrating when it seems like nothing you do can treat it. By identifying what is causing it and with the combination of the right treatments and products, you'll have clear, glowing skin in no time.
At Caci, we want to provide you with the best and help you towards your skin health goals! 
There are a number of membership options that mean you can get varied treatments without the guesswork - we work with you to get the best result so you feel confident in your skin . 
Book a free consultation today to get personalised advice - no strings attached! Treat your skin right with tailored treatment plans at Caci.
---