#TeamCaci Franchising - Meet Hilary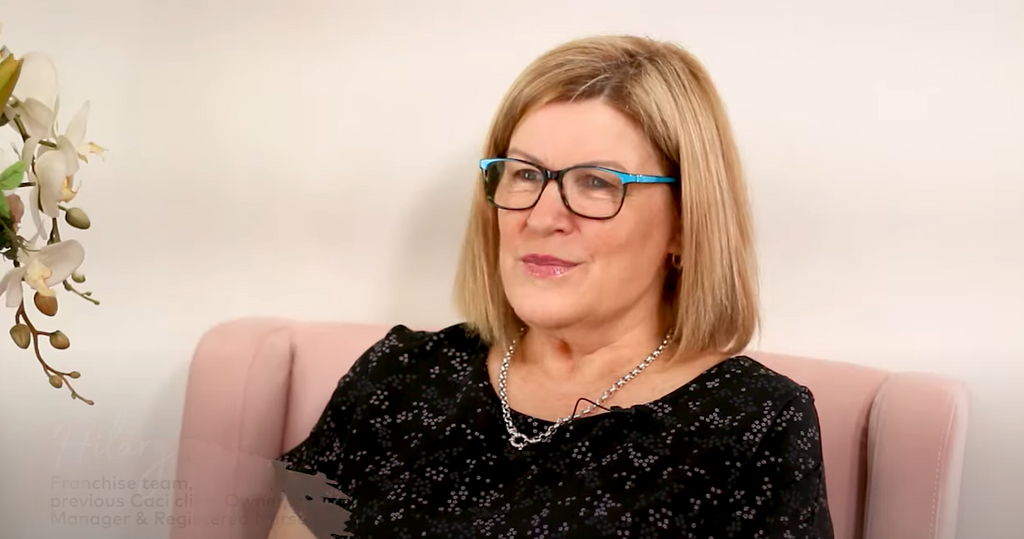 Meet Hilary, shes part of our franchising team here are Caci, and one of the first people you may chat to and meet when looking into becoming a Caci clinic owner. Hilary has been a Registered Nurse, Treatment Coordinator, Manager and also owned a very successful Caci clinic herself.
What does Caci as a Franchisor offer to help support the clinics? 
At the Caci support office we have a Marketing team, Sales team, Engineering, Communications, Learning and development, Research, Reporting, IT, Operations, Finance and our own warehouse team – so lots passionate people that are there supporting our clinics! We provide the tools and systems so our franchisees so they can concentrate on revenue generating activity and excellent customer service. 
What was it like to own a Caci Clinic? 
Rewarding! There's nothing better than being able to help someone with their confidence and, as a treatment provider and Caci owner, you really do have that chance to impact positively on people's lives. Being your own boss, it was great to reap the rewards from the business rather than just working for someone else. 
I can honestly say it was the best financial decision I ever made in my life. On selling the clinic, I sold it for much more than what I brought it for – so I was happy with that! 
Why did you choose Caci over other businesses? 
Caci is a wonderful brand, it's an amazing industry and I couldn't imagine working anywhere else. I've had many roles within the clinic, Registered Nurse, Manager, Owner, Treatment Coordinator – and the career opportunities are great and varied. I've enjoyed many roles within support office as well; Regional Sales Manager, managed the Training Academy and now in Franchise Development so it's certainly never boring!
What does working at Caci mean to you? 
It's been such a big part of my life – 18 years with the same company is a pretty long time – that's almost a third of my life! I'm grateful for the opportunities that Caci has provided for me, and because it has been 18 years, I can honestly say I wouldn't be who I am and where I am if it wasn't for Caci. 
What was your favourite thing about working in a Caci clinic? 
The in clinic environment and the impact you can have on people's lives!
How did Caci as a Franchisor support their clinics and franchisees during the 2020 Covid 19 Lockdown?
The biggest thing during lockdown for our clinics was how the subscription model from our memberships works, so it didn't matter that customers weren't coming in or the clinic wasn't open – customers chose to keep paying their subscriptions towards treatments once we reopened. 
Would you recommend owning a Caci clinic to others? 
If you were looking at signing up to buy a Caci clinic I would definitely say it was the best financial decision of my life – but also, I look back at the years of owning the clinic and it was really enjoyable and a fun time, as well as rewarding. 
Are you motivated? Ready to put in the effort and enjoy the rewards of owning a successful, beautiful business? 
---