Pre Wedding Skin Routine with Stacey Cox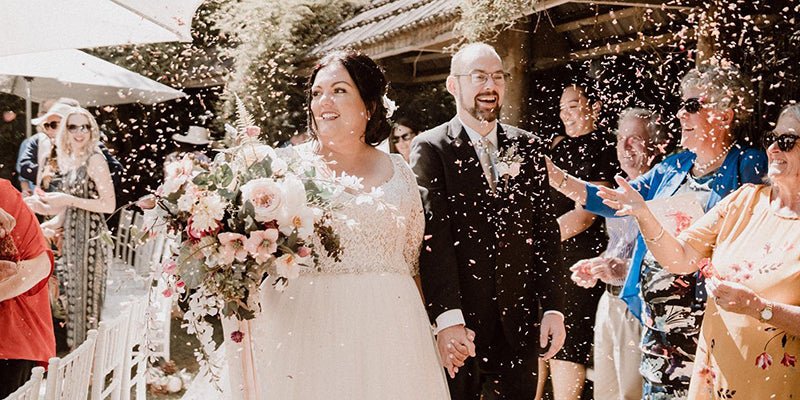 Caci Tauranga West customer, Stacey lets us in on the pre wedding skin routine she followed to get her skin ready for her big day. 
How did your skin feel on the big day?
My skin looked amazing, and I felt incredible. I just had the best time and I think that came through in the photos. It was such a joyous, family-and-friends-filled day and I wish I could do it all over again.

What was involved to prepare your skin for your wedding?
I began my Reformaskin Skin Health Plan with Caci Tauranga West about a year out. My key concern was looking as young and fresh and glowy as possible and destroying the dreaded hormonal jawline cysts.
Tell us about the treatments your received and your at-home routine!
I signed up to a Reformaskin membership and enjoyed skin conditioning treatments like Sonophoresis Skin Infusions, AHA Peels as well as Microdermabrasion and Hydradermabrasion.

I'm fully converted now - I had initially thought that I'd only have my memberships up until the wedding, but my treatments have become a luxurious part of my life now and I'm sticking with it!

For my at-home routine, I adore the Murad AHA/BHA Exfoliating Cleanser, Revitalixir Recovery Serum and the Vita-C Triple Exfoliating Facial. I was pedantic about twice-daily skin care and didn't wear makeup on weekends or holidays.
What are your tips for other Brides to Be?
Give yourself as much time as you can to work on your skin - nothing is an overnight miracle and it takes a holistic approach. In addition to my regular Caci appointments, I work out a lot, drink a load of water, take green and red super-powder shots, remember my vitamins and, even when I want to collapse into bed, I go through my evening skincare routine. 
Enjoy and embrace the process. I loved every bit of my wedding planning and even when we had to postpone due to COVID, I managed to put stress to the side of and just focus on the joy of the planning. 
Quick Fire Q&A - Wedding Edition
Season: Summer, 14 January 
Venue: Woodside Estate, Tamahere
Dress: Rebecca Ingram from Astra Bridal Hamilton
Favourite moment: This is hard, but I think after dinner, when our wonderful photographer, Amy Bell, pulled hubby and I out because the light was perfect. It was just the three of us and was the most peaceful part of the day. Beautiful!
Favourite pre-wedding skin treatment: Definitely Hydradermabrasion! Nothing beats it for busting out the baddies and drenching you full of moisture.
Thanks so much for letting us be a part of your big day Stacey! Congratulations to you and your husband—we love having you as a part of our Skin Confidence Club. 
Want more? Read our guide to your pre-wedding skincare timeline for your big day and our guide to cosmetic injectables ahead of your wedding. Both must reads for any bride-to-be!
Botulinum toxin injections are prescription medicine for the treatment of frown lines , horizontal forehead lines and crow's feet round the eyes. Botulinum toxin injections have risks and benefits. Ask your doctor if botulinum toxin injection is right for you. If you have side effects, see your doctor. You will need to pay for your botulinum toxin injection and clinic fees will apply. For details on precautions & side effects consult your doctor or go to www.medsafe.govt.nz . Botulinum toxin injections lasts about 4 months and further courses of treatment may be necessary. Should only be administered by trained medical professionals.
---