Acne Treatments Our Team Swear By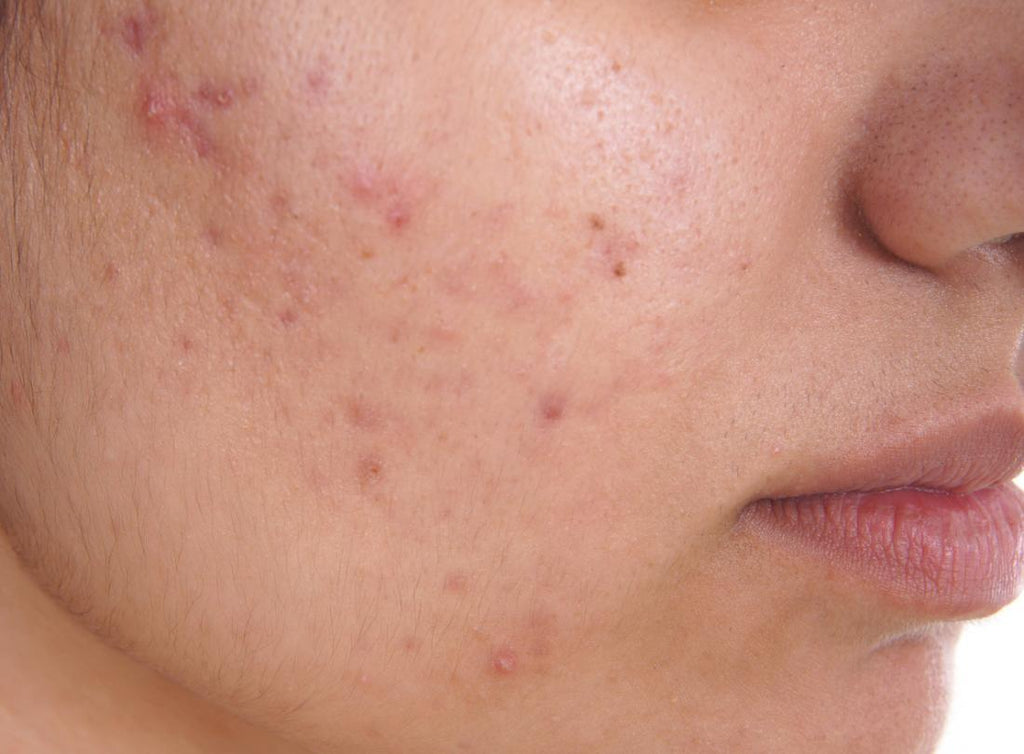 Anyone who has experienced acne or is dealing with constant breakouts knows the impact it can have on your self-confidence.  It can be particularly tricky to make a plan of action for treating acne when there is an overwhelming number of treatments on the market,  often accompanied by confusing and complicated in-clinic jargon and over-promised results. Here at Caci, we are experts in combating acne with a range of advanced in-clinic treatments and trustworthy advice on routines and lifestyle changes you can make to improve your acne. In this guide we cover the most effective treatments for acne-prone skin and share some advice from our knowledgeable team to help you make the right choice for your skin before you splash any cash!
In this article we cover:
What is acne?

What is the best way to treat acne?

Our Favourite Acne treatments 

Combatting acne with a skincare membership at Caci

The benefits of regular acne treatments
What is Acne?
Acne is a skin condition that is caused by hair follicles under the skin that become clogged. Sebum, or the oil that keeps your skin from drying out mixes with dead skin cells and bacteria to clog the pores. The mixture of skin cells, oil and bacteria trapped in the pores create inflammation that present as whiteheads, blackheads or pimples.
Everyone can suffer from acne, although it is particularly prevalent in teenagers and young adults as oil glands get stimulated when hormones become active during puberty. While many adults outgrow acne, adult acne can be a frustrating condition to deal with. 
Acne signs vary depending on the severity of your condition for example:
Whiteheads (closed clogged pores)

Blackheads (open clogged pores)

Small red, tender bumps (papules)

Pimples (pustules), which are papules with pus at their tips

Large, solid, painful lumps under the skin (nodules)

Painful, pus-filled lumps under the skin (cystic lesions)
Acne usually appears on the face, forehead, chest, upper back and shoulders where there are more sebaceous glands.
What is the best way to treat acne?
Acne and regular breakouts can knock your confidence, but thankfully there are many ways to help treat acne and control blemishes. When treating acne, it's important to go slow and make changes that aim to reduce inflammation of the skin. Here are the treatments and tips our team swears by.
Stick to a consistent skincare routine
It can be tempting when trying to banish a breakout to want to throw a lot of different treatments at the problem. This may actually make your skin more angry and your breakouts more frequent, so isn't recommended! An acne-fighting skincare routine doesn't have to be complicated, but consistency is recommended. Good things take time and it's the best way to control your blemishes and any stubborn acne. A good skincare routine for acne could look like the following: 
Avoid harsh physical exfoliators and scrubs, and always be gentle with the skin. It should go without saying to try and avoid picking at your skin and learn to stop popping pimples!
For more advice, check out our comprehensive guide on treating acne prone skin. 
Regular acne treatments
Consistency is key when treating acne-prone skin. It can be tempting to want to switch it up but we don't recommend jumping between lots of different products. You may need to try treatments for 8-12 weeks before you see results. You may also experience purging as your skin adjusts too - be patient!
Ensure you eat a balanced diet
The link between diet and acne has been controversial, but recent research shows that diet can play a significant role in acne development. 
While research has linked certain foods to an increased risk of developing acne, it is important to keep the bigger picture in mind. Overall dietary patterns are likely to have a larger impact on skin health than eating — or not eating — any one particular food.
It is also probably not necessary to completely avoid all the foods that have been linked to acne but rather consume them in balance with nutrient-dense foods such as foods rich in antioxidants, vegetables, fruits, clean proteins. Remember, a diet that is good for the heart is also good for supporting healthy skin! Our skincare experts certainly notice a difference in the skin when they improve their diets. You may even want to go a step further and look at supplements that support the skin.
Our Favourite Acne treatments
Beyond a good skincare routine and diet and lifestyle changes, there are more advanced treatments available to help treat acne. It's important to work with a reputable skin therapist to discuss a tailored approach, and make a treatment plan for your skincare concerns. Our team of skin experts love helping everyone feel more confident in their own skin. Here are our top picks for acne treatments and facials to combat acne.
LED Light Therapy
LED light therapy is a great acne treatment that works to soothe the skin and also stimulate the skin's natural regeneration process. At Caci, we offer two types of light (blue light and red light) that are used on the skin. The colour of light used will depend on what is best suited to your skin. Both lights are non-invasive, relaxing and there is no downtime required. LED Light Therapy is great as a treatment on its own, or a useful add-on to more advanced treatments.
Why we love it for treating acne-prone skin: 
Blue light helps fight against acne-causing bacteria while helping with skin cell turnover and calming inflammation.
Red light enhances the skin's natural defense mechanisms to help speed up healing and encourages happier and healthier skin.
 During your appointment at Caci, your Skin Therapist will work with you on what type of light is suited for you. Just sit back and relax!
Hydradermabrasion
Hydradermabrasion is a non-invasive treatment that deeply cleanses, exfoliates and hydrates the skin. It also stimulates the skin through an active detox solution, electroporation, suction and a diamond exfoliating tip. 
Why we love it for treating acne: 
At Caci we love this treatment as it gives you an instant glow leaving your skin feeling fresh, clean and hydrated. Did we mention there is also no downtime?! Walk out of your appointment glowing. Hydradermabrasion uses our Skinsmiths Detox Serum, infused with Green Tea Extract, Aloe and Chamomile plus Hyaluronic acid. This combination of ingredients is great for calming irritated skin (like acne) as well as keeping your skin hydrated.
Murad Blemish Control Facial
The team of experts at Caci developed The blemish control facial which specifically was developed to reduce blemishes and improve skin clarity and soothing redness and inflammation. The Blemish Control facial uses a clarifying Murad fruit enzyme that is designed to open clogged pores to deeply cleanse and extract oil without causing irritation.
Why we love it for battling breakouts: 
The Murad Blemish Control Facial is specifically designed for acne sufferers to clarify the skin and soothe inflammation.  is also a great facial that helps with preventing the build-up of blemish-causing bacteria on the skin as it polishes away any dull surface skin cells so it relieves the angry redness you may have on your skin! This is a great facial to try! 
For best results, we do recommend regular sessions or follow-up sessions for the above treatments. Consistent, advanced treatments alongside an acne-fighting skincare routine will help to garner results sooner. 
Combatting acne with a skincare membership at Caci
You may have heard us mention (just a few times) that the key to combating  acne is consistency. For best results, we recommend regular acne treatments at Caci. But, we know this can be expensive and also quite overwhelming when understanding and choosing what acne treatments will be right for you. With the amount of information out there, sometimes it is easier to not do anything at all right?! 
Luckily for acne sufferers, the team of experts at Caci have developed a number of effective treatment memberships that are designed for your skin's needs and your skin goals.  With a skincare membership you can enjoy the benefits of regular treatments with the convenience of a payment plan that can be weekly, fortnightly or monthly - the choice is yours. 
We recommend The Blemish Bootcamp membership - this can be an add-on to your existing Reformaskin membership or purchased as a stand-alone membership. 
Blemish Bootcamp is an eight-week treatment plan designed by Caci experts to address blemishes internally and externally. Your Skin Therapist will work with you to tailor a personalised schedule of treatments which will be a  combination of skin-correcting treatments (Led Light Therapy, Hydradermabrasion, The Murad Blemish Control Facial), skincare to use at home to complement and boost your results from your treatments, and supplements to reduce blemish-causing bacteria and improve your skin health. 
By signing up to the 8 week Blemish Bootcamp as opposed to booking a one off treatment means the team at Caci can work with you consistently to achieve the best results for you. You will also get regular check-ins to see how you are tracking and you will be saving on treatments as a Bootcamp member rather than coming in for a one-off treatment.
The benefits of regular acne treatments
I am sure we can all agree that we love a good daily skincare routine, and why not also enjoy regular facial treatments particularly when it comes to treating blemishes and acne. Below are some benefits you could enjoy from jumping on the Blemish Bootcamp bandwagon and having regular acne treatments at Caci: 
Clears congestion and reduces blemish-causing bacteria
Dirt, oil, and dead skin cells clog up your pores and cause them to be more visible to the human eye. Regular facial treatments can help to decongest your pores and keep them that way.  Unclogging pores helps prevent acne breakouts. 
Calms inflammation and relieves redness
Regular treatments to help with blemishes is a great way to calm and soothe the skin from inflammation and any redness you may have on your skin. Facial treatments can help give you a more vibrant and lovely complexion as it increases your blood flow to your skin. This can help tremendously with the appearance and the tone of your skin to give you a more youthful appearance. 
It makes you happy and gives you the self-confidence you deserve!
Did you know that stress is another culprit to promoting acne and blemishes to your skin? Putting away some 'you time' by having regular facial treatments can actually promote and relieve stress to you. And because the facials mentioned above will be helping to treat any acne on your skin, it will not only be a relaxing experience but also treating your acne which in turn will give you healthier skin and the self-confidence you deserve!
Book your free consultation today
If you are wondering what treatment is right for you or you're still not sure where to start but you are keen to make the first move to treat any unwanted acne, then get in touch with your local Caci clinic - all our consultations are 100% free and under no obligation to sign up to anything you are not comfortable with. Book a complimentary skin consultation today. 
Other useful guides: 
---