Pre Wedding Skin Routine with Maddy Hohepa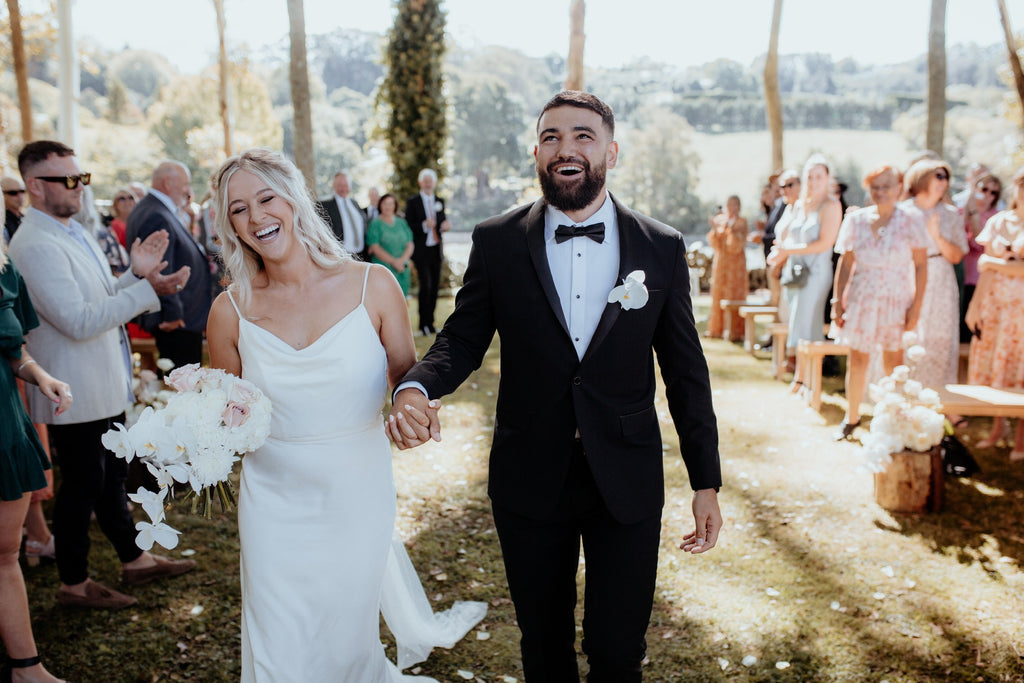 Caci Brand Partner and long-time Caci Pukekohe customer, Maddy lets us in on the pre wedding skin routine she followed to get her (and her husband's skin!) ready for their big day. 
There's no day that feels more important to have clear skin than your wedding day. As soon as I started planning my wedding, I also started thinking about my skin and what I needed to do to ensure it was glowing when I walked down the aisle.  

Clinic Treatments at Caci Pukekohe
At this stage I had already been going to Caci for about two years, having regular treatments as part of the Reformaskin Skin Health Membership. My skin concerns are dryness and congestion, so my treatment plan is usually a rotation of hydrating (Sonophoresis Infusion) and exfoliating skin conditioning treatments (Microdermabrasion, AHA Glycolic Peel). We kept this routine all the way up to the wedding, putting an extra focus on hydration in my last couple of appointments. My husband-to-be even popped in for a couple of treatments himself! Glowing skin isn't just for the gals, and the Microdermabrasion did wonders for his skin.
The year prior to planning our wedding, I had a course of five Microneedling (Collagen Induction Therapy) treatments additional to my regular Reformaskin appointments. Microneedling is incredible for increasing collagen and improving skin texture, and my skin was glowing in the months following these treatments. It was definitely the best my skin has ever looked and felt, so in the lead up to the wedding I had a couple of top up Microneedling appointments too.  

At Home Skin Routine
Of course, all these treatments would be for nothing if I wasn't also keeping up with my skin care at home. I'm often a little bit lazy when it comes to completing both my morning and night routine, but I was really focused throughout this time and made sure I was consistent. I've found the easiest way for me to stick to a routine is to keep it simple!
In the mornings, I start with the Murad Prebiotic 4-in-1 MultiCleanser, followed by the Murad Hydrating Toner and Skinsmiths Complete Recovery Moisturiser, finishing always with a SPF 50+.  At night, the Skinsmiths PRO Strength Retinol, followed by the Skinsmiths Daily Moisturiser and Murad Night Fix Enzyme Treatment. A couple of times a week I also used the Skinsmiths Derma Roller at home before applying the Skinsmiths PRO Strength Retinol. Although strange at first, a Derma Roller is almost a mini Microneedling and has amazing results when using it regularly.

Pre Wedding Tips For Brides to Be
In the weeks leading up to the wedding I was being extra careful in the sun and drinking lots of water! But above all else I was focusing on planning all those last little details that go into creating a perfect wedding day. It can be a crazy and overwhelming time, so my biggest tip when it comes to your wedding skin is to stress less! Little things will go wrong, but in the end none of them will matter and all you'll remember is how happy you were and how much fun you had!
I felt so confident in my skin on my wedding day, all the consistency paid off and I felt like I was glowing.  Having clear skin allowed me to wear a more natural and low coverage makeup which felt so comfortable on a hot summer day and meant I didn't have to worry about my foundation melting off! I had to pinch myself when we got our photos back, I felt so beautiful, and I know that confidence started with my skin. 

Quick Fire Q&A - Wedding Edition
Season: Summer, 12 March
Venue: Black Walnut Venue, Tauranga
Dress: Daisy Bridal by Hera Couture
Favourite moment: Definitely walking down the aisle to my hubby!
Favourite pre-wedding skin treatment: Definitely Microneedling
Thanks so much for letting us be a part of your big day Maddy! Congratulations to you and Riley—we love having you as a part of our Skin Confidence Club. Keep up to date with Maddy over on Instagram.

Want more? Read our guide to Cosmetic Injectables for your big day and your pre-wedding skincare timeline. Both must reads for any bride-to-be!
Botulinum toxin injections are prescription medicine for the treatment of frown lines , horizontal forehead lines and crow's feet round the eyes. Botulinum toxin injections have risks and benefits. Ask your doctor if botulinum toxin injection is right for you. If you have side effects, see your doctor. You will need to pay for your botulinum toxin injection and clinic fees will apply. For details on precautions & side effects consult your doctor or go to www.medsafe.govt.nz . Botulinum toxin injections lasts about 4 months and further courses of treatment may be necessary. Should only be administered by trained medical professionals.
---