10 must-have summer skincare essentials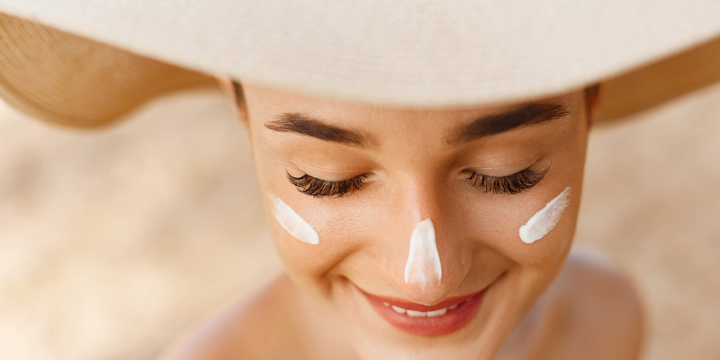 The change of seasons brings with it a world of opportunity, and as the season of warmer weather beckons, it's time to get your skincare in order. 
We all dream of a hot-girl, carefree summer. We all want "I woke up like this" skin, to be both subtly radiant and undeniably healthy. So how does one achieve this goal? Well, the summertime calls for a whole new beauty arsenal - and we're here to tell you what the non-negotiables are for getting you on your way.
Why is it important to look after your skin during summer?
On the most basic level, we spend more time outdoors in the warmer months which means your skin needs that extra layer of protection and recovery at the end of the day. The hot sun, humid weather, and added stresses from lots of swimming can lead to a number of skin issues. Clogged pores and dark spots can be more common during summer and our worst skin nightmare - sunburn! 
All of these means it's imperative to look after your skin during these months and ensure it gets the protection and the rehab it needs. If you want to trim it down to the top 10 essentials, we've collated a list of the top must-have skincare products you need in your summer arsenal. 
Our top 10 skincare products for summer
SPF
Sunscreen is without fail the most important part of anyone's daily regime. It does no harm and is the world of good, and as we welcome the summer sun - it's time to start upping your SPF game. If you decide to ignore nine out of the ten products we suggest in this article, please don't let SPF be one of them. 

In New Zealand especially, it's incredibly important to protect your skin from harsh UV rays with a good SPF.  While in the winter you can usually get away with applying once in the morning, in the summer you HAVE to re-apply throughout the day. While this is not a hard and fast rule, we recommend applying 30 minutes before sun exposure and re-apply roughly every two hours after that. If you're doing a lot of swimming or sweating - it pays to re-apply even more frequently to avoid any sun damage.
For an everyday throw-on sunscreen, it's hard to beat the Skinsmiths Daily Antioxidant Defence SPF 30. This sunscreen has a completely sheer coverage that doubles as a day moisturiser with multi-layer hydration to plump and smooth skin.
Daily moisturiser
What is usually the last step in a person's regime is equally as important as the first. While you should be moisturising all year round, the summer months are notorious for being even more dehydrating. 
Like serums, there are a ton of different ones out there, but if you're looking for a multitasking number the Murad Retinol Youth Renewal Night Cream is pretty hard to beat. Whoever said good things don't happen overnight clearly has never tried this moisturiser because you'll wake up looking like a dewy baby. 
Serum
Finding a serum that works for you can be downright confusing at times. But once you find skin-care serums that deliver on their promises, the results can be, dare we say, life-changing... Packed full of active ingredients, these are the heavy-lifters of the skincare world and each is designed to target your skincare needs. 
From brightening to fine lines, there's bound to be a serum on the market that can help you out. For the summer, it's hard to go past a Vitamin-C serum. It's a strong antioxidant that can help to repair sun and environmental damage so it's the perfect thing to slap on your face after a day out in the sun. The Skinsmiths PRO Strength Vitamin C Serum is a super easy way to add a little bit of extra radiant glow to your complexion and prevent the signs of photoageing. 
Eye cream
The very scientific rule of thumb regarding eye creams is; if you have a favourite supermarket it's time to start using one. This rings even more true during the summer. The skin around our eyes is naturally more delicate than the rest of the face - so the harsh UV rays coupled with constant squinting can really do a number on it. 
Like other targeted treatments, eye creams are a great thing to use at night to ensure optimal results. Skinsmiths PRO Collagen Eye Complex is formulated with a collagen-promoting complex of retinol, phyto-retinol and vitamin C to firm and strengthen the skin around the eyes and diminish the appearance of fine lines and wrinkles.
Retinol
It's no secret that sun exposure can lead to premature signs of ageing. If this is a concern, then adding retinol to your routine is a great way to combat this. While they tend to be an investment, we assure you you'll never look back. 
The Murad Retinol Youth Renewing Serum is a fan-favourite. This special sauce firms tightens, smooths and plumps the skin all while minimising hydration. 
Toner
A lot of people scratch their heads when it comes to using toners, 'what does it actually do' they ask in bewilderment. While there are a few products you can afford to give a miss when you really need to save those hard-earned dollars, don't let toner be one of them. Before moisturising and following a double-cleanse, a quick facial toner will help remove excess dirt, oil, and makeup and correct the pH of your skin. When you're piling on sunscreen throughout the day, toner is the perfect way to ensure your skin is freaky-fresh before bed. 
A few of the old-school toners can leave your skin feeling a bit uncomfortable and tight, but fast forward to today and there are a few exceptionally multi-tasking ones. Murad Hydrating Toner works to replenish skin with lost moisture, while also restoring pH and neutralising surface impurities. It also comes with the added bonus of smelling absolutely delightful. 
Cleanser
The obvious first step to any great skincare routine is a cleanser. Depending on your individual skin concerns, cleansers should be soluble, and gentle but able to remove makeup effectively. If you suffer from the occasional breakout the Murad Clarifying Cleanser is a literal gift sent from the heavens above. If your skin is more on the sensitive side, the Skinsmiths Gentle Cream Cleanser is the way to go. 
Exfoliant 
Skin doesn't stop shedding when it's cold out, quite the opposite actually. So when the winter months start to draw to a close it's time to give your skin a bit of a polish. This, coupled with the fact that sweating in the summer can lead to clogged pores, means there's never a more important time to be exfoliating. Using a good exfoliant will help to remove dead skin cells, as well as improve the texture of your skin and allow your other products to be absorbed by the skin properly. 
The Skinsmiths Resurfacing AHA/BHA Peel every few days will polish away dullness and impurities leaving your skin feel clearer and more radiant. 
Blemish treatments
Don't let a few pimples stop you from enjoying the summer fun. Ensuring you have a good blemish treatment on hand will make sure you can treat any unforeseen breakouts quickly and effectively. Like eye cream, it's best to apply these at night to avoid damage from sun sensitivity. Murad Outsmart Blemish Clarifying Treatment will get you back on track in no time. 
Facial oil
Facial oil is a perfect way to give you a dreamy summer glow. They are also an excellent way of reducing the appearance of fine lines and wrinkles. For best results, apply a facial in the last step of your skincare routine, and if you want to apply during the day, ensure you follow up with some SPF. 
Murad Multi-Vitamin Infusion Oil is the luxurious oil everyone needs in their skincare routine. 
Get your skin summer-ready with these treatments 
Sonophoresis Skin Infusion 
Sonophoresis Skin Infusion is a safe, non-invasive treatment, suitable for most skin types. It uses sound waves to infuse antioxidants and hydrating skincare ingredients deep into the dermis of the skin. The result? Healthy-looking skin reduced redness with a smoother skin tone and texture. It's the perfect pick-me-up for your summer skin!
LED Light Therapy
The holiday period can wreak havoc on your skin with increased socialising, drinking and sun exposure. If your skin is left feeling tired and worn out, the non-invasive LED light therapy facial is a quick and effective way to give your skin a radiant glow. The blue light targets acne-causing bacteria, while the red light works to stimulate the skin's natural defence mechanism. It's perfect for overall restoration during the summer months! 
Hydradermabrasion
Winter skin can often leave your skin feeling dry and dull. Hydradermabrasion (A.K.A. Hydrafacial) is a great way to give your skin a deep cleanse, detox and instant glow (with no downtime needed) For best results look to book a Microdermabrasion every 3-6 weeks. If you're terrible at re-booking appointments try the Skin Health Membership plan!
Ready to level up your skincare game?
If you're ready for that lit-from-within effortless glow this summer but nothing is doing its magic so far, or you're looking for long-term solutions for skin issues, contact your nearest Caci to start your life-changing skin journey! Book a free consultation here.
---